Budweiser Stage | previously Molson Canadian Amphitheatre
It's a triple-whammy of alt-rock as The Cult, Stone Temple Pilots & Bush team up for the Revolution 3 Tour! Coming to Budweiser Stage on Wednesday 25th July 2018, the bands will be playing the iconic songs that made them international sensations – a treat for any rock fan!
"We are thrilled to join our friends this summer to celebrate our music with all of you," said Stone Temple Pilots' Robert Deleo.
The Cult's Ian Astbury added of the Revolution 3 Tour, "We look forward to celebrating glorious summer nights of responsible (and irresponsible) hedonism with all of you."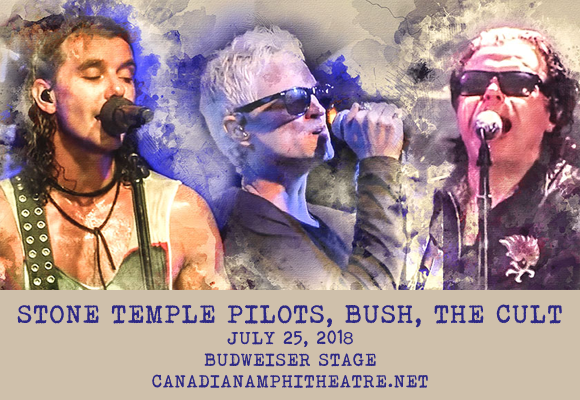 The Cult are a British rock band formed in 1983, who found success in the UK in the mid-1980s as a post-punk/gothic rock band. The band then made waves in America in the late-1980s as a hard rock band. They are best known for their singles "She Sells Sanctuary", "Love Removal Machine" and "Fire Woman". The band had a four year hiatus from 1995-1999 and a lull throughout the early-2000s, but reformed in 2006, performing a series of world tours and going on to release three more studio albums: Born into This (2007), Choice of Weapon (2012) and Hidden City (2016).