Budweiser Stage Seating Chart
The Molson Amphitheatre has a seating capacity of 16,000. 5,500 seats are available under the roof in the first three sections of seating. The last section of seating at the back is in the open air and seats 3,500. The lawn can hold an additional 7,000 people comfortably. That's a lot of people! No wonder the Molson Amphitheatre attracts some of the biggest names in music.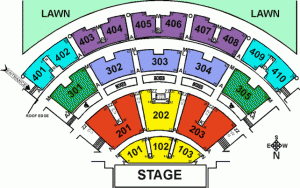 The various colors in the image above represent price changes in tickets. Yellow represents the best seats which are the most expensive, with the cost going down the further back form the stage you sit.
Accessible Seating
Disabled seating is available on the Box row just a short distance back from the stage.
Click the image for a larger view of the Molson Amphitheatre seating chart.