Budweiser Stage Information
The Molson Amphitheatre, which is located in Toronto, Canada, is an excellent venue with top notch facilities. It is located where the Ontario Place Forum was located formerly. The Amphitheatre is has been host to some of the most exclusive concerts and events in the past. One of the most noticeable of these includes the concert in which Bryan Adams performed in 1995, which gave The Amphitheatre a memorable opening. Some of the most popular singers and bands have performed at the Molson Amphitheatre since that grand opening of the venue.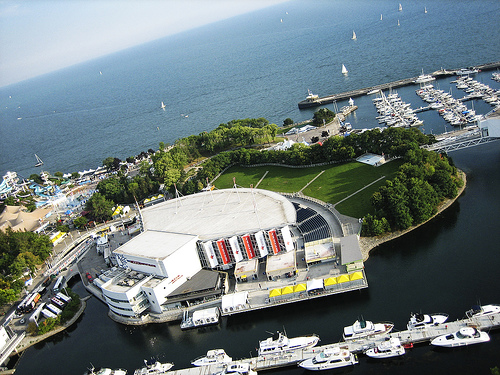 Molson Amphitheatre features
This is an excellent venue with a lot of space and arrangements that are perfect for events. Millions of people have visited The Amphitheatre since it opened in 1995. Whether you want to reserve seats for an event or want to go in without reservation through general admission, both options are available along with VIP box suites and club seats. Whether you are going to an event alone, with family, friends, or business associates, the Molson Amphitheatre is the perfect venue for you to have a fabulous time.
The sound system available at The Amphitheatre is spectacular and makes it possible for people to attain lawn seating during events. The visibility of the performance is also really clear and made possible through the two large-screen video walls that form an important feature of The Amphitheatre. The environment and surroundings at this venue are excellent and really suitable for you to go to an event with people from your organization. There are exclusive seating arrangements available at the Molson Amphitheatre so that everyone, no matter what the social status or profession can take in some of the most breathtaking performances that take place at the venue on a regular basis.
Seating Options
There are a wide variety of choices available in terms of seating at the Molson Amphitheatre. You can choose the seating in accordance with your requirements and the kind of experience you are looking for. The Amphitheatre can seat around 16,000 with its various classifications for the seating. It mostly has an outdoor configuration. There is a high-covered roof under which there are 5500 seats, and then there are around 3500 seats available under the open sky. There is also the availability of around 7000 seats on the grass bowl. For those looking for unreserved seating, there are 1000 seats in the floor area. For the attendees with reservations and tickets, there is Club seats and VIP seats also available. The main focus with which The Amphitheatre operates is the enjoyment and ease of the attendees.
One of the things that make the Molson Amphitheatre so amazing and attractive for performances is that it has a very good location that goes a lot in its benefit. For the performers or any guests coming from abroad, there are fabulous accommodation options available in the surrounding areas of The Amphitheatre. These hotels are some of the best in the city and offer exclusive deals as
For a list of rules and further info on the venue please see Molson Canadian Amphitheatre Rules