Budweiser Stage | previously Molson Canadian Amphitheatre
Calling all fans of classic rock and heavy metal!! Legends of heavy metal, the Scorpions, and Big Four member Megadeth are coming to the Budweiser Stage on Friday 22nd September 2017!! Tickets for this event will sell out straight away so be VERY quick about getting yours – hit the "Buy Tickets," button above to be sure of your place at the show!!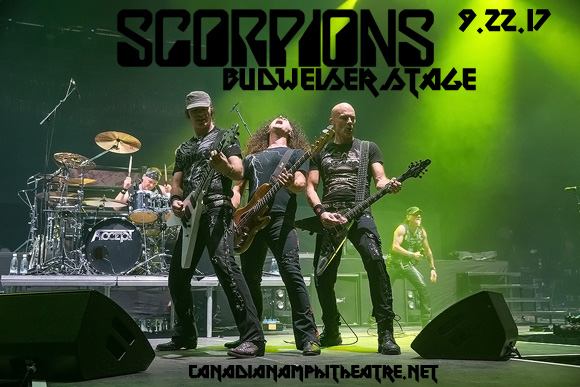 Formed in 1965, German band Scorpions have gone through a variety of styles from hard rock melodic metal and power ballads, and became hugely well known for their colossal 1982 album "Blackout," in particular the single "Rock You Like A Hurricane". Their top-selling album "Crazy World" (after which their upcoming 2017 tour is named!) featured the song "Wind Of Change," which has sold over 14 million copies worldwide, making it one of the best-selling singles in the world. Described by Rolling Stone as "the heroes of heavy metal," the Scorpions have had a lasting and profound impact upon the history of heavy music.
Megadeth will be on tour with with in support of their latest album, "Dystopia," release in 2016. David Ellefson, bassist said of the album; "I think 'Dystopia', in a lot of ways, is kind of the best of the best Megadeth has done. You know, the production is really strong, the riffs are incredibly complex, and there's also some very melodic stuff, like 'Dystopia', for instance, the title track. Yet there's things like 'Fatal Illusion', 'Death From Within', or just all these things, these tracks that are just really complex songs… I think, (it) is something that really moved us into a whole new place that we haven't been to before."
What are you waiting for?? Grab your tickets while they last!!