Budweiser Stage | previously Molson Canadian Amphitheatre
Get hyped, hip-hop heads!! Wiz Khalifa has just dropped a dope new album and announced a HUGE North American tour to go along with it!! With openers French Montana and more to be confirmed, he's bringing the show to the Budweiser Stage on Tuesday 23rd July 2019 – no fan is going to want to miss out on this!! Make sure you don't by hitting that "Buy Tickets," button now and getting yours while they last!!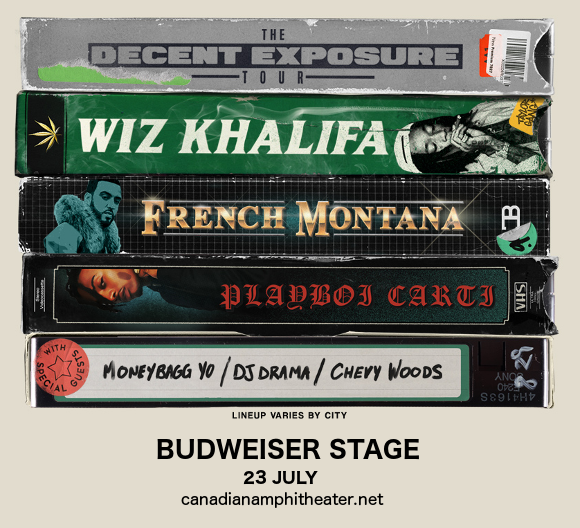 Blasting onto the modern hip-hop scene in 2006 with his album "Show and Prove," Wiz Khalifa established both his sick flows and his love of marijuana early on. After initially signing with Warner Bros, he later moved to Atlantic and released the massive single "Black and Yellow" – a smash hit in multiple countries and hitting the top spot on the Billboard Hot 100, it is possibly his best known to date. In 2015, he held No.1 on the charts for his song "See You Again" written for the film Furious 7 for an astonishing 12 weeks running!! But there's been no shortage of material coming from the constantly creative rapper; he's released a total of 7 studio albums so far, with the latest, "Fly Times, Vol. 1: The Good Fly Young" dropped, unexpectedly but appropriately, just in time for 4/20 this year. And its one of his sickest albums yet!!
Now, get ready to experience all the new songs in person – tickets on sale now and selling out fast!! Don't delay – get on grabbing them while you can!