Budweiser Stage | previously Molson Canadian Amphitheatre
Are you ready for the biggest tour of the summer?? Weezer and Pixies have announced a huge joint headlining tour, in 2018, kicking off in June in Tampa and wrapping up in August in Phoenix, with the indie rock group the Wombats opening the show for the first third of the run. Fans of any of these acts would be crazy to miss out on this amazing event! Catch Weezer, Pixies and The Wombats live on Saturday 14th July 2018 at Budweiser Stage – go ahead and get your tickets NOW while they still last!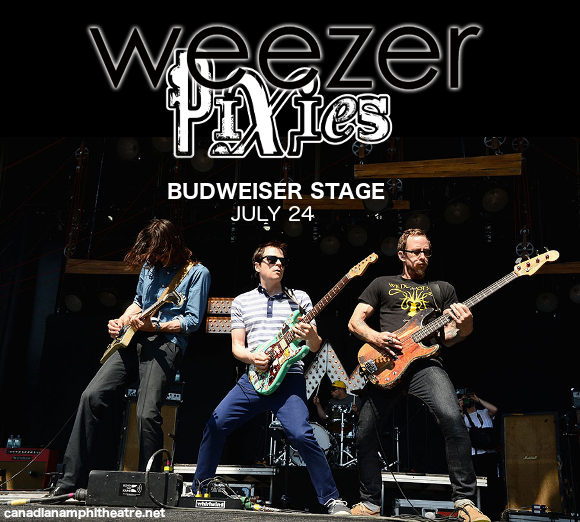 Since Weezer's 1994 debut, the self-titled "Weezer," album, their appreciation for the Pixies has been clearly evident – and the admiration goes both ways. "We're all big Weezer fans, so we're really looking forward to this summer," Pixies frontman Black Francis said. "We have a lot of respect for Weezer; they're not afraid to take risks with their music."
On this special tour with the Pixies, Weezer will play an array of songs from their extensive repertoire of 25 years, including old favorites as well as brand new material from their recent release, "Pacific Daydream". As for the Pixies, there's no telling what they'll do – known for their focused and intense live shows, with the music taking centre stage with very little in-between-song chat, they'll be playing anything that takes their fancy. Fans can expect a few surprises!
Well, what are you waiting for?? Grab those tickets NOW and get ready to see all your favorite bands LIVE on July 14th!