Budweiser Stage | previously Molson Canadian Amphitheatre
Listen to your Stupid Heart, hit that "Get Tickets" link, and prepare to immerse yourself in a concert experience that will blow your mind. Experience Walk Of The Earth this Saturday, June 3, at the Budweiser Stage. Be wowed as you listen to the feel-good music of the Canadian multi-instrumentalists on a night that will ultimately show you that music is the universal language of love. This year also marks the 10th anniversary of the band's debut major-label album R.E.V.O. Thus, aside from hearing their newer hits like the viral "Stupid Heart," you are also in for some throwback hits, such as "Red Hands," "Somebody That I Used to Know," and "Speeches," among others. So secure your tickets today by hitting the "Get Tickets" link.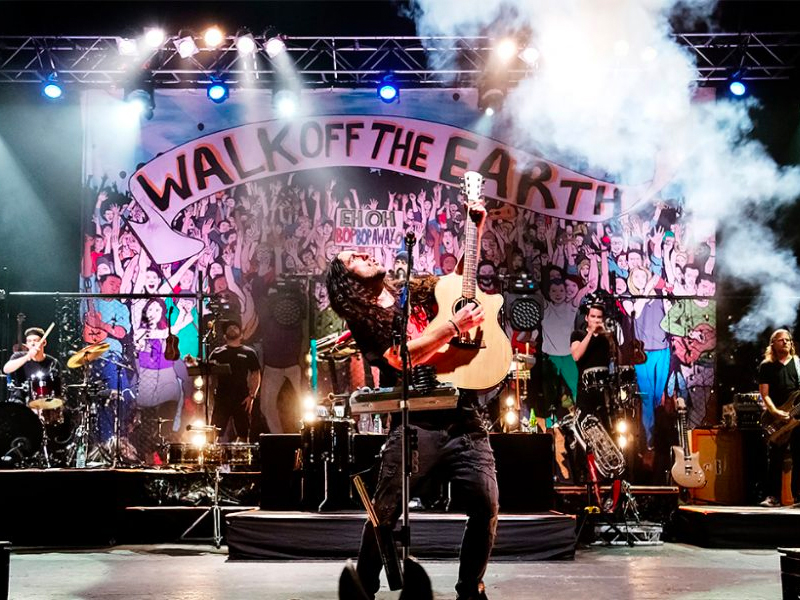 If you're on Tiktok, you have probably heard of one of the songs of Walk Off The Earth. Their music is the definition of "infectious bop," blending folk, pop, and odd experimentations that are sonically uplifting. Besides Tiktok, Their song covers gained popularity on Youtube due to their use of instruments such as the ukulele and the theremin. The band comprises Gianni Nicassio, Joel Cassady, Sarah Blackwood, David Speirs, Adam Michael, and CJ Hinds.
The band was formed in 2006 and slowly gained a following for their innovative covers. They first went viral when they posted their cover of Gotye's "Somebody That I Used to Know" in 2012. This success led to them getting signed with Columbia Records, releasing their album "R.E.V.O." (Realize Every Victory Outright) in 2013. The album's track, "Red Hands," reached the Top Ten in Canada, while the album charted at number seven, earning the band Juno Award nominations for Pop Album of the Year and Group of the Year. Five more albums would come out in the subsequent years, with their latest "Romeo Eats Vol. 2" released in 2022. This past month, they made waves on Tiktok, teasing their songs "Bet on Me" and "My Stupid Heart."
Walk Off The Earth is headlining a tour this year, and they will be stopping at the Budweiser Stage on Saturday, June 3. Alongside the high-spirited band are pop sensations Johnny Orlando and Preston Pablo. Canadian heartthrob/ crooner Johnny Orlando is best known for his songs "Everybody Wants You" and "Waste My Time." On the other hand, Preston Pablo is famous for his songs "Flowers Need Rain" and Need You Bad," blending pop and hip-hop styles. Buy tickets now for this concert!