Budweiser Stage | previously Molson Canadian Amphitheatre
Radio-friendly pop rockers Train are heading out on a mammoth 45-date tour this summer, promoting their 10th studio album, a girl a bottle a boat, with British pop queen Natasha Bedingfield & 90s rock band O.A.R.! Heading to Budweiser Stage on Wednesday 21st June 2017, expect a night of hot new tracks, and maybe a few of their Grammy Award-winning classic hits, from Pat Monahan and the boys!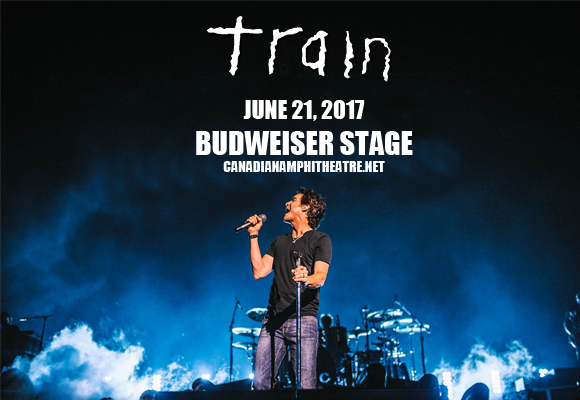 American root rock band Train formed in San Francisco in 1993. The band, which currently consists of Patrick Monahan (vocals), Luis Maldonado (guitar), Hector Maldonado (bass, vocals), Drew Shoals (drums), and Jerry Becker (keyboards, guitar), and occasionally founding member Jimmy Stafford (lead guitar), first found mainstream success in 1998 with their album Train. 2001's album Drops of Jupiter remains their biggest commercial success, launching the lead single "Drops of Jupiter (Tell Me)", which won two Grammy Awards the following year. Their 2009 RIAA 6x Platinum-certified international hit "Hey, Soul Sister", which was taken from the album Save Me, San Francisco, also received widespread airplay, and the album was certified gold by both the RIAA and ARIA, selling 954,000 units. The band's tenth studio album, which is titled A Girl, a Bottle, a Boat, was released in January 2017.