Budweiser Stage | previously Molson Canadian Amphitheatre
There is one big reason to look at the Brightside this summer! Our favorite American indie folk-rock band will make a stop at Toronto, Canada's famous Budweiser Stage, for an incredible concert experience for all fans to behold. Sunday night of June 12th won't be an ordinary night for Lumineer fans who can expect nothing but great music and excellent lyricism from the band. Joined by the Ohio-based band Caamp, Lumineers will play iconic tunes such as 'Ho Hey' from their debut LP and the fast-paced 'Ophelia' from the album Cleopatra. The Brightside tour of these folk-rockers will feature the songs from their most recent album. Expect to hear newer tunes like "A.M. Radio," the carrier single "Brightside," "Big Shot," "Never Really Mine," and many more! So make sure to buy your tickets here if you don't want to miss this memorable night of incredible stripped-back raw sound of Lumineers and Caamp! Grab your tickets now before they run out!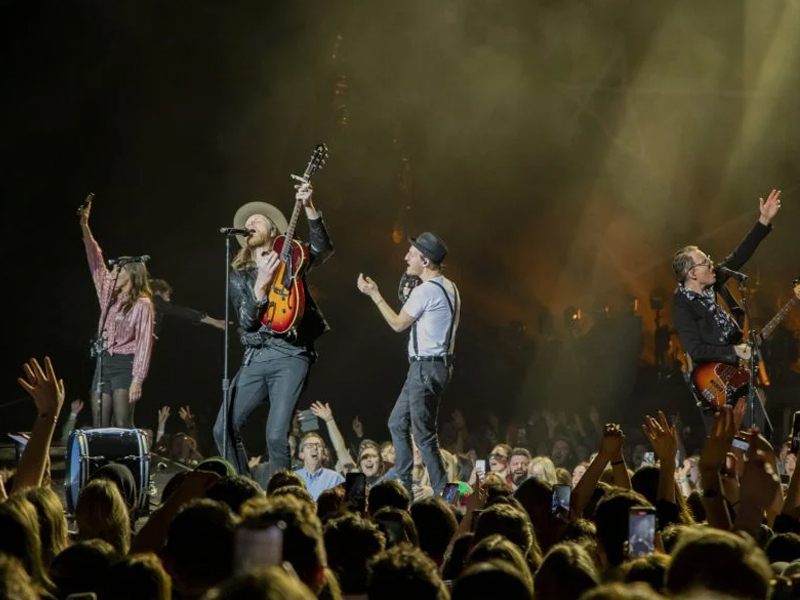 It is clear that after ten years of being in the folk-rock music scene, the Lumineers haven't lost any relevance. In fact, these folk-rockers from Colorado have expanded their fan base worldwide. With their style of warm, folk-pop that is more likely suited to an intimate stage, we might say that the Lumineers aren't fit to play large venues and arenas. However, this assumption is all wrong as the band was able to play in sold-out venues in recent years. This is evident in most of their concerts across the United States earlier this year. This series of shows are not part of the tour yet, but they give a glimpse of what to expect in their Brightside tour.
The Grammy-nominated band will first tour major cities in Europe, such as Glasgow, Dublin, Amsterdam, and Warsaw. They will also stop in Canada before rocking the arenas in the United States. This September, the tour will end in a two-day event during Bridgeport, Connecticut's Sound on Sound Music Festival.
The Lumineers are set to conquer Toronto this June 11 and 12. This summer, they will surely give their Canadian fans a full concert experience in a two-night concert event at the famous Budweiser Stage. The rising trio-band, Caamp, will join The Lumineers as support acts. This Ohio-based band comprises three friends who, in 2016, independently released their first record. They have topped the Spotify charts and headlined in most US shows. They recently released their third album, "By and By" and are slowly gaining a considerable following — proving themselves worthy of headlining this tour with the one and only The Lumineers. Book your tickets for the Budweiser show now before they run out.