Budweiser Stage | previously Molson Canadian Amphitheatre
EVENT CANCELLED. Please contact your ticket point of purchase to claim a refund on your tickets.
Black Crowes' brothers Chris and Rich Robinson finally put on an end to a family feud. Among other things, they found a common ground that set all differences aside…"It's always been our band and it's funny through all the trajectory of the good and the bad — the joy and the frustrations," Chris says. "[Rich and I] were laughing, saying the one thing [we] can always agree on is, Shake Your Money Maker's a good record." Thus, it's high time for this reunion not only with family but with fans as well, to happen as their "Shake Your Money Maker" album debuted thirty years ago this year. Now join them on this grand revelry as The Black Crowes are all set to play the Budweiser Stage on Tuesday 28th July 2020. Definitely not something you'd dare miss! Go on, book your tickets now!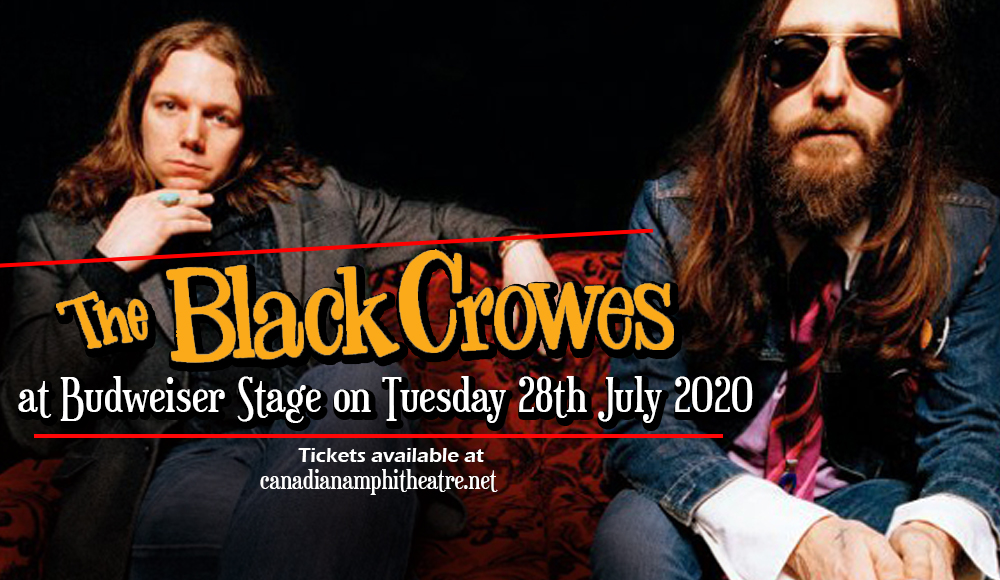 "I think this is pure. We went off into a lot of things. There's no jamming," Chris Robinson tells Rolling Stone. "There's no extraneous stuff. This is the purest Black Crowes that people first [heard] … I hope we reconnect with some people who lost their way with us because of all of our other shit we were doing."
This is how the Black Crowes brother Chris and Rich Robinson dropped the official announcement that the much-well known family feud has ended, and they've patched things up and celebrating it with a bang, as "Shake Your Money Maker", in its entirety and all of the hits will be heard live again on the big concert stage.
Listed at number 92 on VH1's 100 Greatest Artists of Hard Rock, The Black Crowes were also labeled by Melody Maker as "The Most Rock 'n' Roll Rock 'n' Roll Band in the World", while Rolling Stone mag readers also voted them 'Best New American Band' in 1990. The Black Crowes sold a whopping sold more than 30 million albums, fuelled by powerhouse singles "Jealous Again", "Twice As Hard", "She Talks To Angels", and the rollicking cover of Otis Redding's "Hard To Handle".
As the legendary debut album marks its 30th anniversary, this 2020 tour will be their first live show since 2013.
Rich Robinson remarks, "First and foremost, I'm really happy to have my brother back in my life. To be able to play music again together and celebrate the first record we made as kids, is a gift. To have these songs stand up after 30 years is something I could've never fathomed."
Chris Robinson says of reuniting, "I'm thrilled & blessed to be playing with my brother celebrating the music we've made & bringing our lives together full circle. Long live Rock n' Roll & The Black Crowes!"
Don't miss this reunion party! Go, get your tickets now!