Budweiser Stage | previously Molson Canadian Amphitheatre
Before the fall season sucks the life out of you, see the Smashing Pumpkin as they take you on a masterclass to alternative rock, an experience you have never been through before. On their "The World is a Vampire" tour, the band will bring the house down at the Budweiser Stage on September 2. The world is like a vampire, and sometimes dealing with it is draining and makes you feel out of place. That is why you should take some time and have a breather from whatever struggles you go through. Unwind as they perform career-defining hits from their cherished discography. Their newest album, "Atum: A Rock Opera in Three Acts," is such a synth masterpiece. What better way to experience it than seeing the Billy Corgan-led band live? Its grunge sounds, smashed with electronic style, will surely shake some fire out of you. To make this a definite alternative music festivity, indie trailblazers Interpol and Rival Sons will also hammer down powerful tunes. Reserve your tickets now!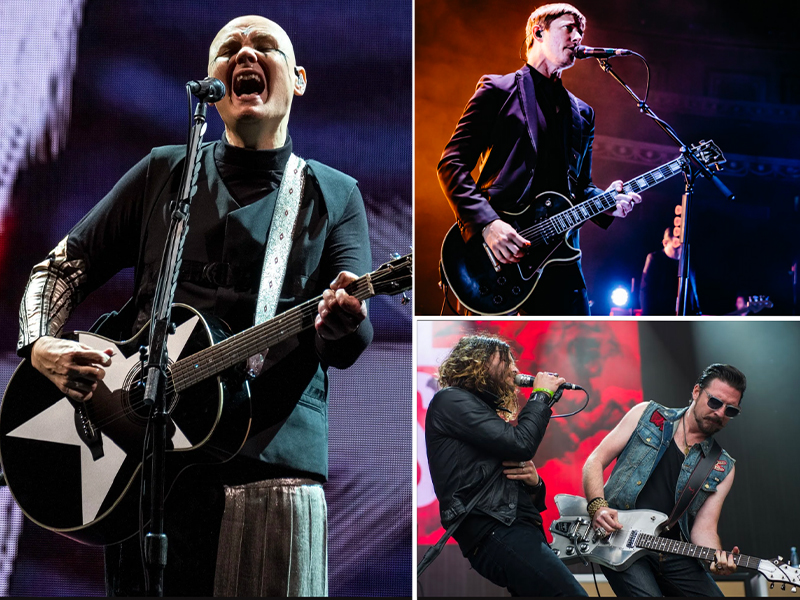 Alternative era icon, Smashing Pumpkin made a mark with their music characterized by contemporary rock, metal, punk goth, psychedelia, and pop, which empower their well-crafted lyrics thanks to their lead vocalist and guitarist Billy Corgan. During the 90s, they held a spot on the pedestal of the best 90s rock bands, alongside Nirvana and Pearl Jam. Due to their great success, their music influenced the rise of alternative rock into the mainstream scene. They have sold 30 million records in their career.
At the dawn of the 90s, the band had already captured attention with the release of their debut single, "I Am One." Labels were scrambling to sign them, and with a clever strategy, they decided to sign with Virgin Records, which allowed them indie freedom. Their "spiritually intuned" debut album "Gish" was the talk of the town when it came out and soon became a pop culture highlight of the 90s. However, the success was contrasted by the shaky relationship between the bandmates. They released "Siamese Dream" in 1993, which was greeted with critical acclaim. This album spawned their biggest hits like "Today," "Disarm," and "Cherub Rock." Two years after, "Mellon Collie and the Infinite Sadness" came about, which mirrored the internal struggles the band was going through, as well as the declining mental health of Corgan. It surpassed the last album and gifted the world with songs such as "Bullet with Butterfly Wings," "1979," "Zero," and "Tonight, Tonight." In 1998, "Adore" came out to mixed reactions. Corgan called it an album made by "a band falling apart." Nonetheless, it was still a huge success. They released two more albums in 2000 before their inevitable disbanding.
The band was reformed in 2006. The following year, they released "Zeitgeist." They put out five more albums afterward. This year, "Atum: A Rock Opera in Three Acts" came out. Currently, the band consists of Billy Corgan, James Iha, Jimmy Chamberlin, and Jeff Schroeder.
For their "The World is a Vampire" tour, the band will be performing at the Budweiser Stage on Saturday, September 2. Along with the 90s rock legend, Interpol and Rival Sons will be performing. Interpol is an indie rock trailblazer. Their 2002 debut album "Turn on the Bright Lights" was a huge influence on the scene. On the other hand, Rival Sons will lull you with their modest rock. They are best known for their Grammy-nominated album "Feral Roots." To see these outstanding bands on one stage, be sure to get your tickets early.