Budweiser Stage | previously Molson Canadian Amphitheatre
Metalheads, get ready for the show of a lifetime!! Slipknot have returned for 2019 with the Knotfest Roadshow – a massive tour featuring huge names Volbeat, Gojira and Behemoth!! This epic lineup is heading to the Budweiser Stage on Tuesday 20th August 2019!! No metal fan can afford not to catch this tour: get your tickets today!!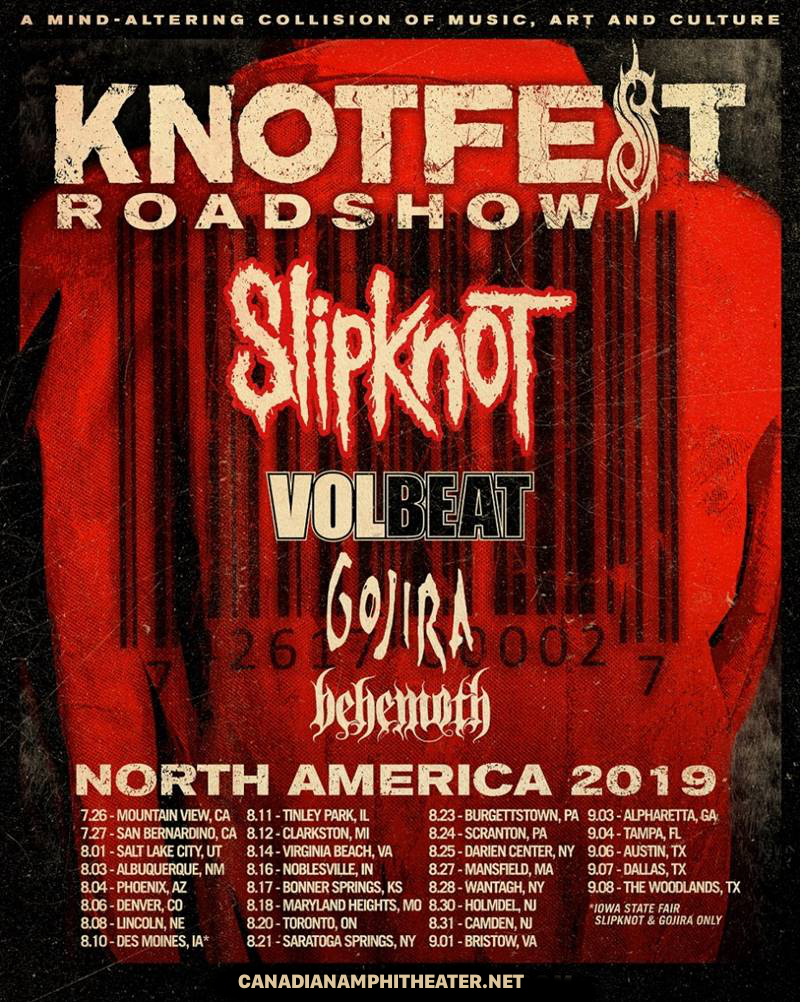 While the band were quiet throughout 2018 as lead singer Corey Taylor focused on his other major band Stone Sour and various side projects, they've returned in 2019 with just about as much huge news as they could throw at us. On top of the absolute killer of a lineup they've put together for their tour, they've just announced an all-new album scheduled for release this year in the wake of their latest single, "All Out Life".
"No albums are better or worse than each other, and they're all important to our legacy and our story," said drummer Shaun Crahan in an inverview. "But what I'm trying to tell you is, that first album is like being smacked in the face with a garbage can, or a bat. It's a f****** assault on your soul… I really feel this is like me coming out again. I can't explain it. But it's like discovering us all over again. We're back to help the new generation discover it like they first did in 98."
Are you ready to discover it all over again with Slipknot LIVE?? We sure are – make sure you've got your tickets and see you at the Budweiser Stage on August 20th!!