Budweiser Stage | previously Molson Canadian Amphitheatre
Metal fans, the end of an era is approaching. The mighty Slayer are laying down the sword in 2018, and they're going out with a massive North American tour with metal heavyweights Lamb of God, Anthrax, Behemoth and Testament! Get ready for the biggest show of the year and possibly the decade at the Budweiser Stage on Tuesday 29th May 2018 – get your tickets NOW for the last and greatest Slayer tour EVER!!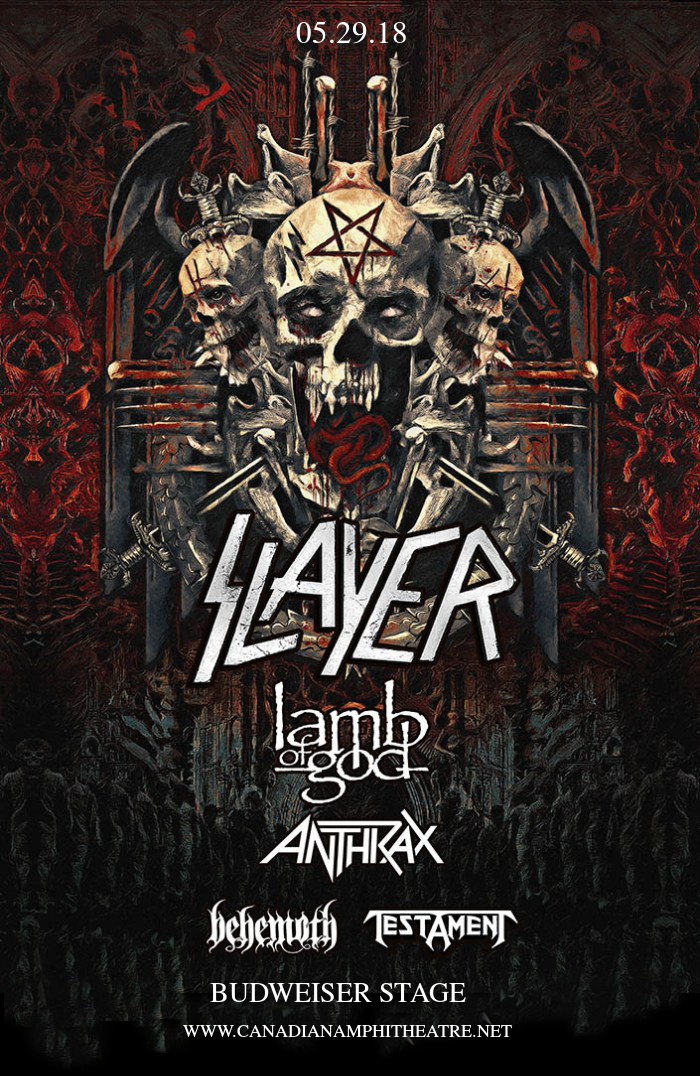 "The age of Slayer, one of the greatest thrash/ metal/punk bands of this or any age, is coming to an end," said the band's official Twitter page. And its no exaggeration – over the course of their career, spanning over three decades, they became one of the influential "Big Four," metal bands alongside Metallica, Anthrax and Megadeth, with their third album, "Reign in Blood," widely regarded as one of the most important albums in shaping the sound of heavy metal today, with MTV stating that it "set the standard for dozens of emerging thrash bands".
Earning widespread recognition and causing controversy for their provocative artwork and lyrical themes, Slayer have enjoyed a long and illustrious career, releasing 12 studio albums, several certified Gold, touring multiple times over the world with over 3,000 live performances under their belt, and earning no less than five nominations for Grammy Awards.
Get ready to be part of the greatest farewell tour in metal history – book your tickets to see Slayer QUICK, before they all sell out!!