Budweiser Stage | Toronto, Ontario
Canadian fans of Post Malone are in for a treat this summer because the Grammy-nominated artist will bring his "If Y'all Weren't Here, I'd be Crying Tour" to the Budweiser Stage. Knowing the capacity of the famous Toronto venue, this concert is going to be an epic one. Come join hundreds of Post Malone fans this July 20 and sing along to his numerous hits, including "Rockstar," "Circles," "Sunflower," "Chemical," and many others. This show is in support of Posty's new album "Austin," so you can be sure to hear new songs from his unreleased album. If that doesn't excite you, we don't know what will. After all, this album promises to show the artist's vulnerability and passion for music — especially the rock genre. This one-night show is definitely the highlight of every hiphop fan's summer. So, don't you dare miss it. Tickets are now for grabs. Click the "Get Tickets" link to reserve yours today.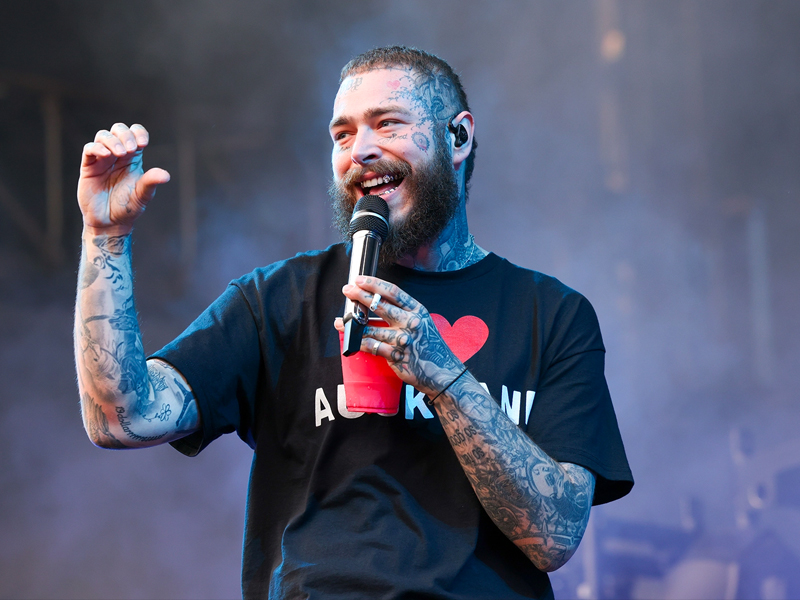 From the moment he broke into the music scene in 2015 with his hit single "White Iverson," Post Malone has become a household name. With genre-bending tunes, he made a mark not only in the rap and hiphop scene but in other genres too. He became one of those artists who are innately great at whatever sound they put out.
The New York native multi-faceted artist released his debut album in 2016. To say that "Stoney" was a massive success would be an understatement. It was an astronomical success for a debut record, gaining over 5 million unit sales in the United States alone. In addition, the album reached multiple platinum certifications across many countries, including Canada, Australia, the UK, Finland, Ireland, and Norway, among many others. Needless to say, this success became instrumental for Post Malone to continue his artistry, experimenting with different sounds and genres on his future albums.
He released his sophomore album "Beerbongs & Bentleys in 2018, "Hollywood's Bleeding" in 2019, and "Twelve Carat Toothache" in 2022. All of these albums were commercially successful and further cemented Post Malone's mark in the rap and hiphop scene. Like his debut album, his subsequent albums charted in different territories and earned multiple platinum certifications not only in the US but all over the world. Furthermore, he earned several awards and nominations from reputable award-giving bodies, including three American Music Awards, ten Billboard Music Awards, and an MTV Video Music Award.
This year, the 27-year-old multi-platinum artist will release his fourth studio album, "Austin." With the hit singles "Chemical" and "Austin" racking up millions of streams, the album is surely set for massive success. Adding to the excitement of the release of his upcoming album is Post Malone's announcement of a North American tour. This comes as a surprise for fans who thought that the artist would rest after the success of his massive tour, "Twelve Carat Toothache Tour," in 2022 and early 2023. Dubbed "If Y'all Weren't Here, I'd Be Crying Tour," the series of shows will bring the 27-year-old Grammy-nominated rapper-singer to many select US and Canada venues. The trek will kick things off on July 8 and is set to hit over 20 amphitheaters, including Toronto's Budweiser Stage, on July 20, 2023.
Tickets for the show are now on sale, and you can reserve yours here by hitting the "Get Tickets" link.