Budweiser Stage | previously Molson Canadian Amphitheatre
There's no stopping Mr. Worldwide himself, Pitbull, from taking over the stage at the Can't Stop Us Now tour, ready to get it down at Budweiser Stage on Saturday, 13th of August 2022. Tagging along is the 'fancy pop star Iggy Azalea. From his global breakout single "I Know You Want Me (Calle Ocho), the world definitely wanted more from one of the world's hottest rappers and Latin hip hop artists. He sold over a hundred million singles and 25 million albums across the globe. With a slew of chart-topping hits and collaborations in the 2010s, there's no stopping Pitbull from taking on the new decade with an upcoming album called "Timeless". Don't miss out on this chance to catch Mr. Worldwide hit the stage at the Can't Stop Us Now tour. Book your tickets now!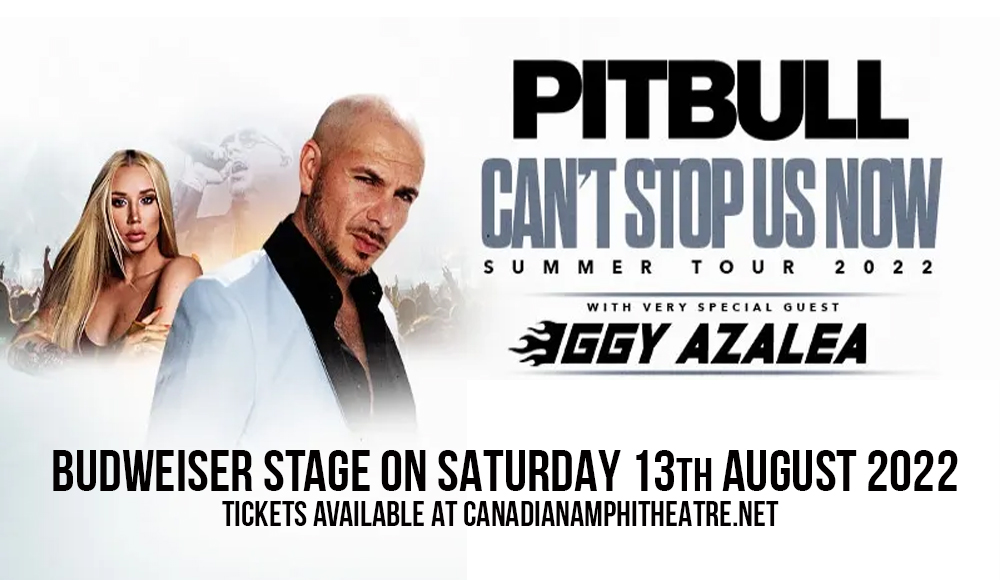 As Pitbull teased his upcoming album "Timeless" to his fans on a live chat, Pitbull says "It's about making Timeless music". His hits over the last decade are definitely timeless when the likes of "Give Me Everything", "International Love", and "Timber" play in the club, the crowd definitely goes wild.
Although, it wasn't a simple story of world domination for Mr. Worldwide. Hailing from Miami, Pitbull went through challenges and struggles as he grew up, crediting his hometown as a place that shaped who he is today.
"So what I learned how to do was basically what I told everybody through my records. I took a negative and made it a positive. It's the same hustle, same mentality, same grind, same struggle, same fight — just a different product, and my product is music." Pitbull told NPR.
Born as Armando Christian Pérez, he took the stage name "Pitbull" from dogs who "bite to lock… They're basically everything that I am. It's been a constant fight" said Perez. From then on, he hasn't let loose in living the dream of taking over the world through music.
Though breaking out to the global stage in 2009, Pitbull's started growing his presence in the music industry since 2001. He dropped a couple of early mixtapes and released his debut studio album "M.I.A.M.I." in 2004.
By 2009, the world soon found the guy they've always wanted singing "It's Mr. 305 checkin' in for the remix" in his breakout hit single "I Know You Want Me (Calle Ocho). From then on, Pitbull continued to serve hits after hits including "International Love" featuring Chris Brown, "Don't Stop the Party" featuring TJR, "Feel This Moment" featuring Christina Aguilera, "Timber" featuring Kesha, "Time of Our Lives" with Ne-Yo, and so on.
He's also known for his Spanish-sung verses and tracks such as "Me Quedaré Contigo" with Ne-Yo featuring Lenier and El Micha, "No Lo Trates" with Natti Natasha and Daddy Yankee, and "Dame Tu Cosita" with El Chombo and Karol G featuring Cutty Ranks.
As 2022 marks a new era for Mr. Worldwide with fans anticipating the release of his upcoming new album, there ain't nothing stopping Pitbull from getting the party on! Catch Pitbull perform his world-dominating hits, fan favorites, and big surprises at the Can't Stop Us Now tour. Hurry and book your tickets now while they're still hot!