Budweiser Stage | Toronto, Ontario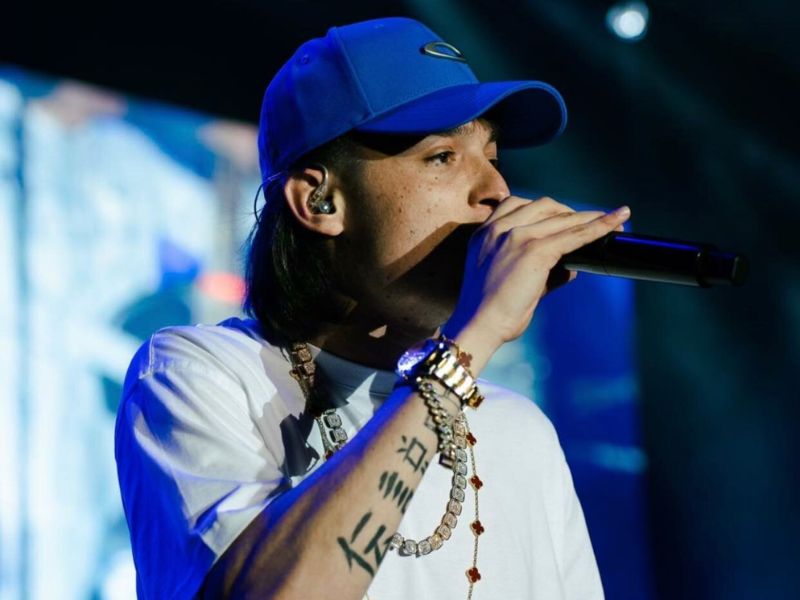 The "Doble P" tour is right around the corner, and this rising Mexican star is ready to charm the Toronto crowd! Presented by Live Nation, Peso Pluma is hitting the Budweiser Stage on August 19, 2023! Performing everywhere from TikTok to the Coachella main stage, Peso Pluma is internationally known for his number one hit "Ella Baila Sola," and "PRC." The 24 year-old Guadalajaran rapper and singer-songwriter is hell-bent on taking his career to the next level as he promotes his most recent album "Genesis," on his 2023 North American debut tour. Amassing 19 million monthly listeners on Spotify alone, his song "Ella Baila Sola'' made history by becoming the first Mexican regional song to reach the top spot on the Billboard Global 200 chart! Head to one of the most famous Canadian concert venues and jam to the hottest reggaeton, corrido and urbano music! Tickets are running out so act fast and book your seats today!
Peso Pluma is praised as a fresh, dynamic brand of Mexican music. Be there as he takes the stage at the Budweiser Stage on Saturday 19th August 2023. The concert event is part of the "Doble P" tour which kicked off earlier this year. On select dates, the on-going tour will also feature special guest Alemán, best known for releasing singles "Rucon" and "Delivery."
The young up-and-comer has made a name for himself as a singer by producing songs that possess unmatched honesty and style. With his seductive vocals and eclectic sound choices, he is redefining the genre, taking cues from a variety of musical subgenres like Latin Urban and Regional Mexican.
He recently released his most-awaited third album, "Genesis," which highlights Mexican traditions and moves them forward in his original way. "There are no dancers or elaborate fireworks," Billboard shares. "It's the man and his band, and it's Mexican to the core, sonically bearing little resemblance to anything else in the market."
The Tiktok sensation made history when he became the first performer to rule both the Billboard Global 200 and Billboard Global 200 Exclusive. Two of his hit tracks simultaneously reached the top of the U.S. charts: "Ella Baila Sola" with Eslabon Armado and "BZRP Music Sessions, Vol. 55" featuring DJ Bizarrap. In addition to this accomplishment, he is also the first Mexican musician to hold the top spot on Spotify Mexico's "Daily Top Artists" chart.
"Peso Pluma is a dynamic frontman who sings his heart out, fully live, backed by an energetic, tireless seven-piece live band made up of two guitars, an upright bass, two tubas and one trombone, with all members dressed in black and sporting black sunglasses for a futuristic look," Billboard shares.
Canada's Toronto, Ontario, is home to the Budweiser Stage which was formerly known as the Molson Amphitheatre. The stage is situated on the grounds of Ontario Place and is recognized for featuring a wide variety of performers from jazz, rock, pop, and other genres.
Watch breakthrough artist, Peso Pluma, steal the crowds' hearts with his charming vocals on a Saturday night you won't forget! Buy your tickets now, and let the excitement commence!