Budweiser Stage | previously Molson Canadian Amphitheatre
Get ready for a truly unique concert!! That's right, the five—piece vocal group Pentatonix are on tour in 2018 with their fresh upcoming album!! Treat yourself to a one-of-a-kind concert with Pentatonix's uplifting a capella mix of originals and cover songs – live at the Budweiser Stage on Thursday 6th September 2018!!! Tickets are expected to sell FAST so don't delay – grab your seats at the Pentatonix concert NOW while they last!!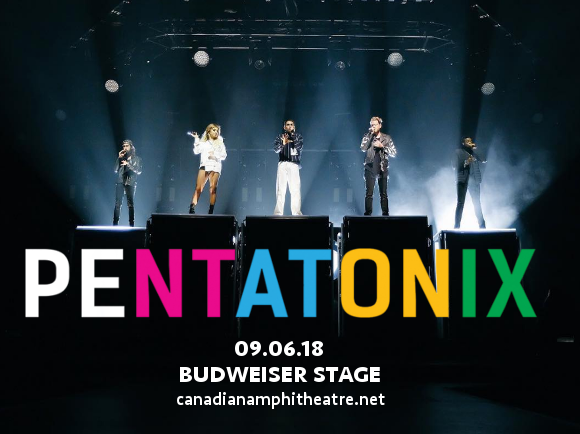 Formed in 2011 by Scott Hoying. Mitch Grassi, Kirstin Maldonado, Kevin Olusola, and Avi Kaplan (who later left the group and was replaced by Matt Sallee), they gained attention on the The Sing-Off TV show, which they went on to win. Over time, the group has developed from a cover act to a unique artist in their own right, writing their own material as well as covering popular songs.
"I feel like I've learned throughout this whole process that you have to really understand and learn about people," said Kevin Olusola, when asked about how the band's dynamic has evolved. "Coming into this, we didn't know each other very well, so whenever we would talk to each other about certain things, I think sometimes it wouldn't make sense to us because we didn't understand where that person was coming from. Now that we understand each other so well, we understand how to make things work because we know each person's dynamic and character."
Get ready to experience it all live – grab your Pentatonix tickets NOW while you can!