Budweiser Stage | previously Molson Canadian Amphitheatre
Ozzy Osbourne fans listen up!! The final reckoning is approaching at long last – The Prince Of Darkness is embarking upon his No More World Tours 2 tour in 2018, and this time, it really marks the end of the legendary rock n' roller's touring career. With Stone Sour as the opening act, he's coming to the Budweiser Stage on Tuesday 4th September 2018! Hit the "Buy Tickets," button NOW while you still have the chance and get ready for the ultimate heavy metal performance!!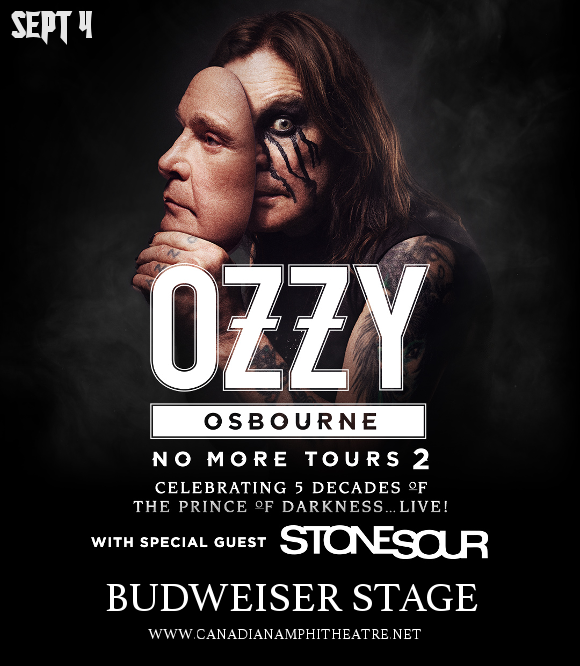 It's been an incredible 50+ years for John Michael "Ozzy" Osbourne. Gaining legendary status as the frontman of Black Sabbath, he's gone on to forge a phenomenally successful solo career as well as starring in reality TV. Although this tour doesn't mark the end of Ozzy's career – incredibly, he says he has another solo album in the works with at least eight songs!! – he has confirmed that it will be his last major world tour, expressing a desire to spend more time with his family.
"I've experienced fantastic things; it's been an incredible journey," the singer reminisced, on the subject of touring taking away from his family life in the past. "I just need to slow it down a little. I enjoy being a grandfather…I don't want to go through another generation of Osbournes without seeing them grow up."
It's really your last chance this time – don't miss it. What are you waiting for?? Grab those Ozzy Osbourne tickets NOW while they last!!