Budweiser Stage | previously Molson Canadian Amphitheatre
OVO Fest: B2K, Mario, Pretty Ricky, LLoyd, Ying Yang Twins and many more – comes to Budweiser Stage on Sunday 4th August 2019. Grab your tickets now!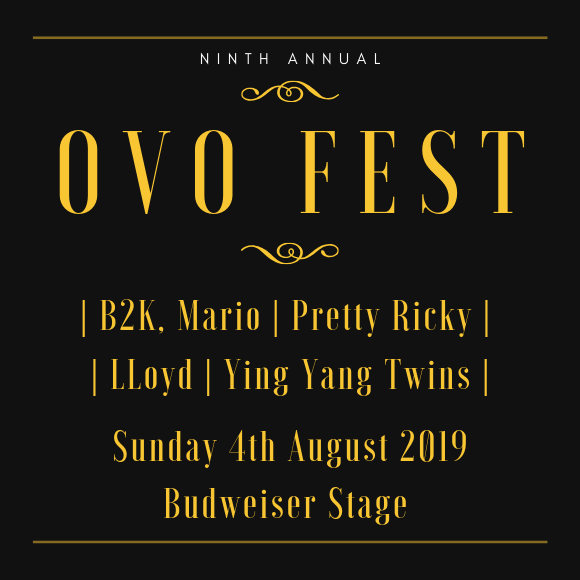 OVO Fest is back for its ninth year, taking place on August 4th and 5th, at its usual venue, Toronto's Budweiser Amphitheatre.
For the festival's first night, Drake will hand off duty to the B2K, with appearances from other notable early 2000s acts including Lloyd, Ying Yang Twins, Mario, Chingy, Pretty Ricky, and Bobby Valentino.
For the second night, Drake is the only announced performer, though he has been known to bring a cavalcade of surprise guests on stage.
Hosted by multi-talented Canadian himself, Drake will headline the show as is tradition, and given OVO Fest's history, there is likely to be plenty of special guests in attendance.
With an impressive lineup each year the 2019 edition includes B2K, Chingy, Ying Yang Twins, Lloyd, Mario, Pretty Ricky, Bobby V and more.
In addition to the two days of huge performances the day before the festival Drake will host the OVO Summit on 1st and 2nd August. The summit consists of a series of workshops designed for young creatives in Canada along with OVO Bounce. There will also be a basketball showcase that sees all walks of life come together to enjoy the sport.
Attention:
Event parking is very limited and not guaranteed. Parking may occasionally be found in the Ontario Place parking lots at a rate of $25 per event.