Budweiser Stage | previously Molson Canadian Amphitheatre
One of the leading poster boys of Canadian rock music is Our Lady Peace. They held the Canadian banner soaring high up the worldwide charts with their smash hits, and founded a summer music festival that became a hub for both Canadian and international bands. "Summersault" has been in hiatus for quite some time, up until now. Our Lady Peace dropped the official word that "Summersault" is back! OLP, along with other leading bands will fire up the Budweiser Stage on Sunday 15th September 2019. This show is gonna be lit, don't miss it!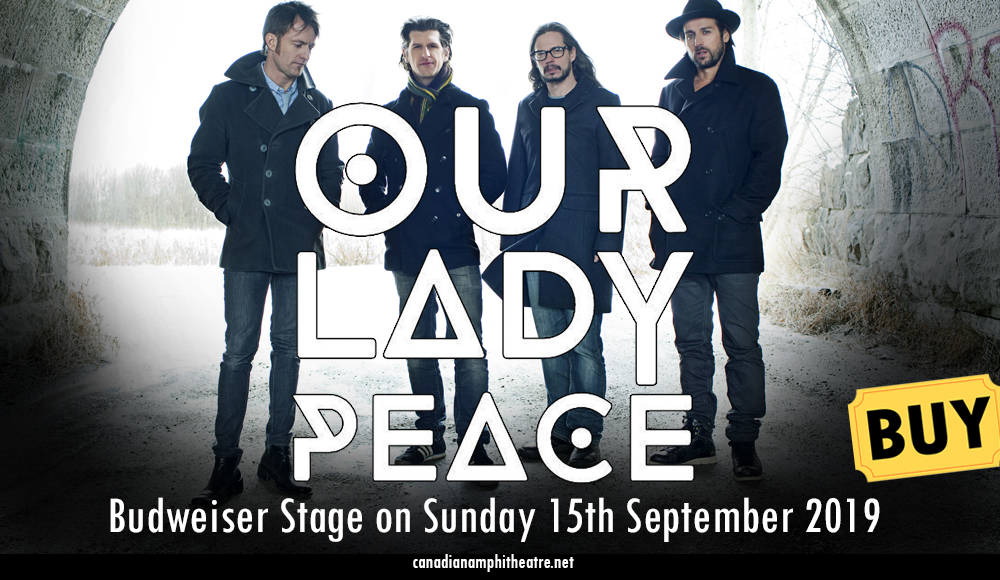 Our Lady Peace rocked the Canadian shores that sent waves, tremors, and aftershocks to the rest of the world. 'Twas in 1997 when they declared "Superman's Dead", lording over the airwaves . From there, OLP functioned like a hit making machine, spawning a host of chart-toppers like "Clumsy', "4 am", "Naveed", "Somewhere Out There" and many more. They were raking in album sales that amounted to millions, and bagging awards and recognitions along the way. They won four Juno Awards, and won ten MuchMusic Video Awards — the most MMVAs ever awarded to any artist or group.
With their fame and fortune, so to speak, Our Lady Peace thought of paying it forward and invited a few Canadian bands to music festival-type of gig that they organized. "Summersault" was born. Here's how OLP lead vocalist looked back how it all began…
"Summersault began as a little idea. We asked a handful of Canadian bands we were fans of to join us on a few outdoor shows in 1998. The bands agreed and Summersault was born. The next year our list grew to include International bands like the Foo Fighters, Deftones, Smashing Pumpkins, A Perfect Circle, the Catherine Wheel, and Sum41. Summersault quickly grew to a cross Canada Festival. It was the first time many of these bands had ever visited or played cities like Edmonton, Winnipeg & Halifax. We are proud to have exposed them to these and other incredible Canadian cities back in 2000 and this year feels like the right time to relaunch Summersault. We couldn't be more excited to bring it to Canada again."
Great times up ahead…join the parad and book your tickets now!