Budweiser Stage | Toronto, Ontario
After taking you to 'Alaska off of her iconic debut, Maggie Rogers is set to drop the summer heat, announcing her newest Summer of '23 Tour with Soccer Mommy and Alvvays. The 17-date North American trek will take a special stop at Budweiser Stage on Thursday, 3rd of August 2023. Selling pre-sale tickets like it's 1965 ahead of online sales, Maggie Rogers is set to bring her astounding craft back to the live stage, following her The Feral Joy Tour that sold out in early 2023. As her 2022 LP "Surrender" continues to make waves with its hit singles "Love You for a Long Time", "That's Where I Am", and "Want Want", Rogers is expected to bring along her earlier hits as well including her blockbuster hit single "Alaska" at her very own summer tour. Make sure to RSVP to summer nights of honest and astounding lyrical melodies by the one and only Maggie Rogers by booking your tickets now!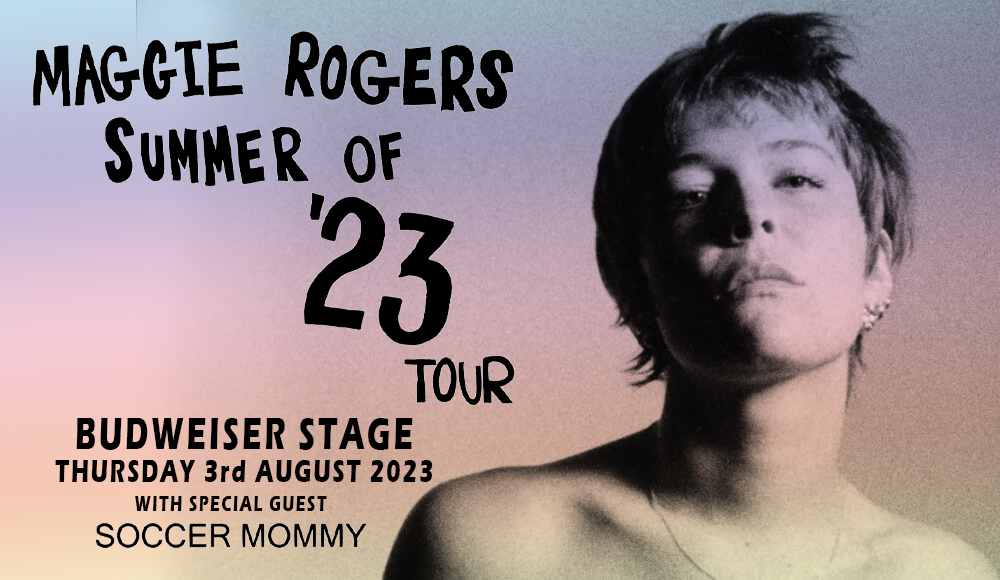 Following a sold-out The Feral Joy Tour trek earlier this year, Maggie Rogers is taking fans on summer nights to remember at her newest headlining Summer of '23 Tour, featuring special guests Soccer Mommy and Alvvays. Launching pre-sales like it's 1965 with box office visits prior to online sales, Rogers is set to bring her honest lyrical melodies back to the live stage for intimate performances on a summer night.
Breaking through with her hit debut single "Alaska" in 2016, Maggie Rogers quickly became a crowd favorite for her honest lyrics and astounding melodies that ooze tones of indie pop and folk. Her breakout hit "Alaska" was a song written in fifteen minutes about an NOLS course. The track was played for Pharrell Williams who was visiting her class to critique students' work, exclaiming "I've never heard anything that sounds like that". A video amazed Pharrell listening to the track went viral, which skyrocketed Rogers to critical acclaim.
In 2019, she finally released her debut full-length LP, "Heard it in a Past Life", featuring her hit singles "Alaska", "On and Off", and "Light On". The album hit #2 on the US Billboard 200. As an accidental star whose life turned around after a viral Pharrel video, Rogers had to make twists and turns to navigate her newfound place in the industry. "I feel really proud of the lack of compromise that exists on the record," she shared with DIY Magazine. "I think the record is about me really powerfully and poignantly choosing this and deciding that this is what I love and this is what I wanna do,".
In 2022, she followed it up with her sophomore record, "Surrender". Exploring life through introspective pop anthems, Rogers shares a profound new energy, evident in her new singles "That's Where I Am", "Want Want", and "Horses".
"[Surrender] is back in my private life," she told ELLE. "It felt really empowering to tell the truth in that way, and to acknowledge the fact that I've grown up, and I'm going to talk about exactly what my life looks like."
As Maggie Rogers explores newfound heights and stories to share, make sure to save your spots at her Summer of '23 Tour live at Budweiser Stage by booking your tickets now!