Budweiser Stage | previously Molson Canadian Amphitheatre
Get ready to have your world thoroughly rocked by two of the world's biggest, and most legendary bands, the iconic Lynyrd Skynyrd and ZZ Top come together to co-headline a tour like none other, The Sharp Dressed Simple Man Tour plows through the Budweiser Stage on Sunday, August 27th, 2023. Get your tickets here and get ready for an all out night of epic, classic rock from the best acts in rock and roll, with a combined over 100 years of rock history. This is the show for you.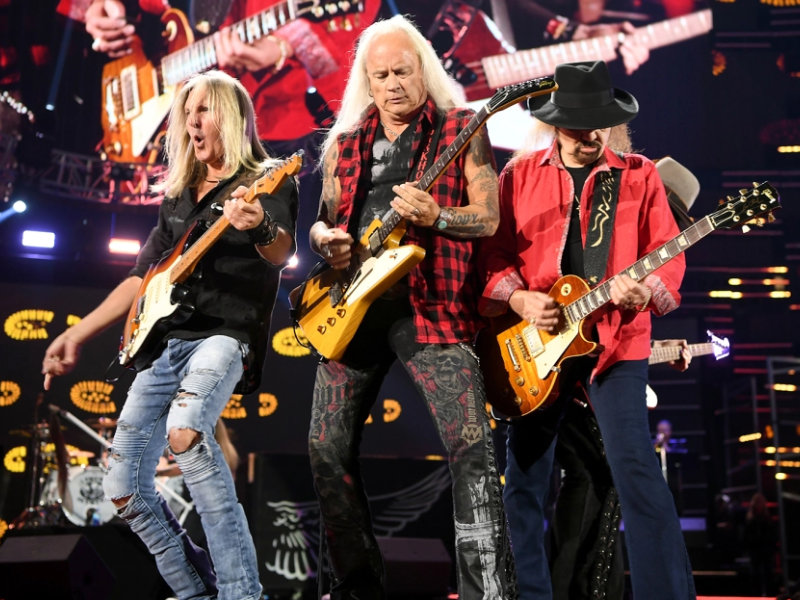 In 2023, Lynyrd Skynyrd will celebrate the 50th anniversary of the release of their groundbreaking debut album, "Pronounced 'Lh-'nérd 'Skin-'nérd." The band has maintained a strong following among listeners of all ages. Skynyrd is one of the few bands to have had such a profound effect on shaping a culture. The group is still active because they want to remember a history that has influenced hundreds of millions of people around the world.
The rock stars are constantly touring, and as Van Zant says, "It's a look at the meaning of Lynyrd Skynyrd to its legion of devoted followers." I can't think of a better feeling than hitting the road with Skynyrd and putting on a great show for our fans. In his own words, Rossington emphasizes the point: "We're still here, and we're still rocking out." For the sake of the honor of our slain comrades, we had to keep the name pristine. Members of the Rock and Roll Hall of Fame, Lynyrd Skynyrd have amassed billions of streams and tens of millions of record sales from their plethora of studio albums.
Ronnie Van Zant, Allen Collins, Steve Gaines, Ed King, Billy Powell, Bob Burns, Leon Wilkeson, and Hughie Thomasson are just some of the former band members who have earned immortality thanks to their work on the band's enduring catalog and rich history. Present-day Lynyrd Skynyrd members include Johnny Van Zant, Rickey Medlocke, Mark "Sparky" Matejka, Michael Cartellone, Keith Christopher, Peter Keys, Carol Chase, and Stacy Michelle. Gary Rossington has maintained a significant role and creative influence within the band, despite only occasionally performing live.
Over the course of more than half a century, "That Little Ol' Band From Texas" has been entertaining their legion of devoted fans with their brand of rock, blues, and boogie. Beards, hot rods, spinning guitars, and the fabled "magic keychain" are as much a part of the ZZ TOP brand as the band's music itself, allowing them to transcend geographical, linguistic, and cultural barriers. ZZ TOP was formed in Houston, Texas, in 1969 by former members of two rival bands: Billy Gibbons' Moving Sidewalks and Frank Beard and Dusty Hill's American Blues.
ZZ Top's breakthrough came with the 1973 album Tres Hombres, which included the massive hit "La Grange," which is still one of the band's most recognizable songs. When ZZ Top released Eliminator in 1983, it was a watershed moment in the band's history. They stayed true to their bluesy beginnings while adding hi-tech flourishes, such as in "Sharp Dressed Man" and "Legs," which became early favorites on MTV. Quickly after its release, the album was one of the first to receive the record industry's highest certification, "Diamond," for sales of 10 million or more copies.
What makes ZZ TOP so great is summed up in the band's internal motto: "Tone, Taste, and Tenacity." They are practically alone in the pursuit of true roots music. Blues forefathers like Muddy Waters and B.B. King, as well as more contemporary figures like Jimi Hendrix and British blues rockers, have all influenced ZZ Top. They have sold hundreds of millions of records, and been inducted into the Rock and Roll Hall of Fame. Their documentary, That Little Ol' Band From Texas, was nominated for a Grammy, and they've played for more people across more continents than any other band in the past 50 years.
Gibbons, Hill, and Beard (who, ironically, doesn't wear a beard) have been the band's stable core for over 50 years. When Dusty had to take a break from the tour in the summer of 2021, Elwood Francis stepped in to play bass guitar and has been doing so ever since.