Budweiser Stage | previously Molson Canadian Amphitheatre
Come and 'let love rule' this late summer/fall as the mind-blowing rock artist Lenny Kravitz comes to showcase his long standing career live at Budweiser Stage on Wednesday 4th September 2019! With his endless back catalogue of hard hitting singles, seeing Lenny Kravitz in concert is a dream come true for any fan! This guy really knows how to give the crowd what they want with an intense, out of this world kind of show! Expect heavy guitars, full power energy and of course Lenny Kravitz flawless vocals! Tickets are on sale NOW – don't miss out!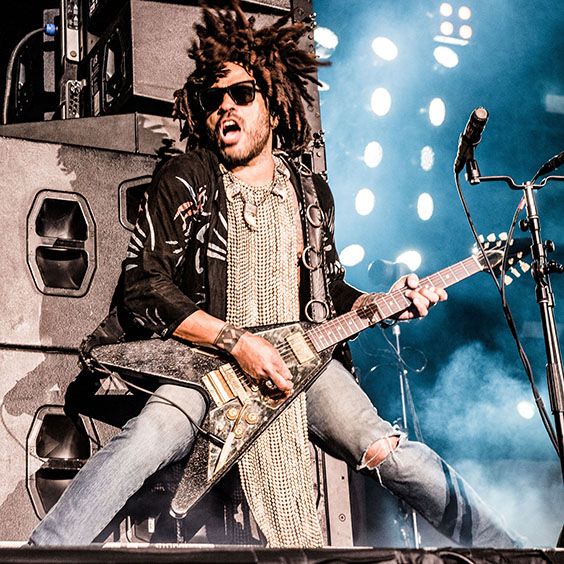 Lenny Kravitz hardly needs an introduction as one of the coolest rockers on the music scene today! During the late 90's and early 2000's, Lenny K's music took over the rock scene and transformed it to a superstar status, that everybody had been waiting for, bringing to mind the greats such as the legendary guitarist, Jimmy Hendrix, but giving an edgier sound with his "retro" feel good energy.
The American singer and songwriter has had a steady career with his solo music that combines elements of Rock, Blues, Soul, R&B, Funk, Jazz, Reggae, Hard Rock, Psychedelic, Pop, Folk and Ballad styles, you name it this guy has done it! Along with his iconic front man charisma, the talented artist has proven his skills with playing most of the instrumentation on his tracks and singing lead vocals as well as backing, making his tracks sound to the fullest they can be.
His mind blowing first studio album, Let Love Rule included so many of his fans favorite tracks and made his mark within the charts, but his second release of Mama Said, is probably one of his most famous albums to date, with tracks such as the incredible, It Aint Over til It's Over and Always on The Run, cowritten and featuring Guns N' Roses guitarist Slash. The full length album itself pushed Lenny Kravitz career event further, with impressive double platinum sales!
During the big years in Lenny K's career, he gained a Grammy Award for Best Male Rock Vocal Performance, not once, not twice, not even three times, but a whopping four times in a row, between 1999 – 2002, with this incredible triumph, he broke the record for the most wins in the category and since has been nominated continuously for other awards. These include; American Music Awards, MTV Video Music Awards, Radio Music Awards, Brit Awards, and Blockbuster Entertainment Awards… the list goes on!
As well as his own music, he has become famous for his incredible acting skills, such as his cameo roles as himself as well as the 'Katniss' Fashion Designer in the two major Hunger Games films in 2012 and 2013. He has also starred in the likes of; Precious in 2009, which gave him countless nominations for awards for his performance, along with The Butler in 2013 and his most recent roles in Better Things and Star in 2016.
If you love Lenny Kravitz and want to see him rock this summer/fall then be sure to book your tickets for his 2019 dates! This chance doesn't come around often!