Budweiser Stage | previously Molson Canadian Amphitheatre
Korn fans, pay attention – your favorite nu metal band are hitting the road in 2019, and this time, they're teaming up with Alice In Chains for the ride!! It's all happening at the Budweiser Stage on Wednesday 14th August 2019 – do not miss your chance to catch them live – book your tickets quickly, before they sell out!!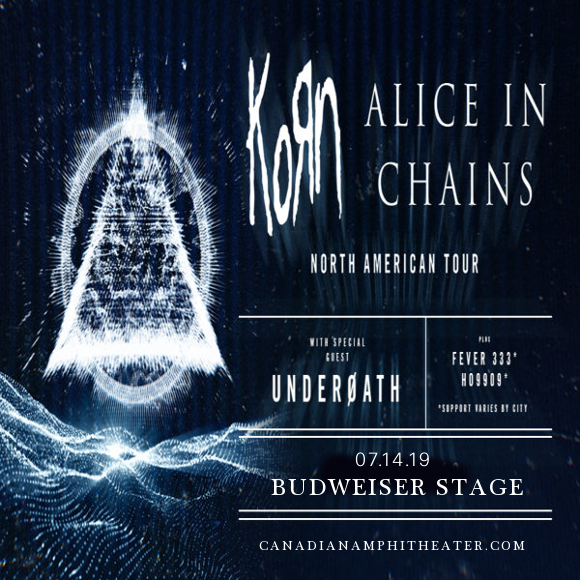 Korn have confirmed that they are currently working on their follow-up to their sensational album "The Serenity of Suffering." This record is Korn's first collaboration with producer Nick Raskulinecz, known for his work with Deftones and the band's 2019 tourmates Alice In Chains. According to the band, his unique, critical approach was what helped bring out the band's trademark sound back out of hiding in the latest album.
"He's got that personality and is just a fan of music," enthused Head about Raskulinecz's particular method. "He told us he used to flip burgers and listen to Korn while he was working. He was, like, 'As a fan, I know what you guys need right now. I know you guys have ventured off and done stuff, but I want to take your whole career — your last 20 years — and put together what I would like to hear, as a fan.' Once we got him, he started going over songs with us, throwing stuff away, keeping other stuff, and making stuff better. That was the beginning of the process."
We can attest to the fans certainly knowing what they want! You've got the album – now get ready to see the band on tour!! Have you got your tickets yet???