Budweiser Stage | previously Molson Canadian Amphitheatre
Get ready all fans of Kendrick Lamar!! The rapper is on tour again with his brand new album "Damn!" Joining him on the road are fellow R&B stars SZA and Schoolboy Q. Don't miss out on this amazing live show – hit the Buy Tickets button above to get yours while they last!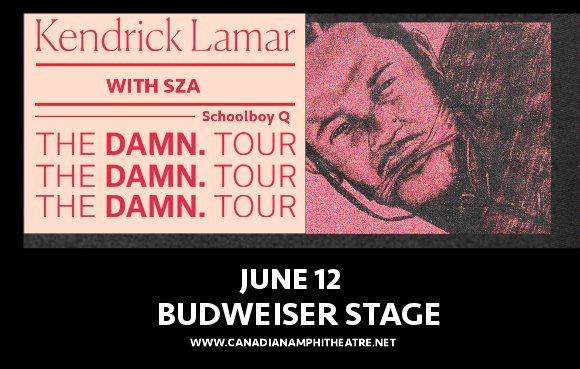 Focused on a musical career since he was a teenager, Kendrick Lamar gained local attention with his first mixtape, which led to him being signed to the indie label Top Dawg Entertainment (TDE). His first release, "Overly Dedicated," began to garner him worldwide attention, and his large online following soon enough propelled the songwriter to the top of the charts with his first major label debut album! Since then, Lamar has been widely regarded as one of the best artists in hip hop.
The latest album is his first since 2015. Regarding the nature of his latest work, Kendrick Lamar described this album as a more introverted release than his previous LP, "To Pimp A Butterly". "I think now, how wayward things have gone within the past few months, my focus is ultimately going back to my community and the other communities around the world where they're doing the groundwork," the Californian rapper said. ". "To Pimp a Butterfly was addressing the problem. I'm in a space now where I'm not addressing the problem anymore."
Get ready for a truly incredible show!! Don't delay – go ahead and book your Kendrick Lamar tickets NOW, while you still have the chance to!