Budweiser Stage | previously Molson Canadian Amphitheatre
One of the hottest and most influential artists hailing from the bay area, Kehlani, is set to celebrate and bring their recently released album "Blue Water Road" on a world tour, stopping by at Budweiser Stage on Wednesday, 24th of August 2022. The multi-time Grammy-nominated singer has amassed over 5 billion streams across her three albums, including their hit singles "Gangsta", "Good Life" with G-Eazy, "Nights Like This" feat. Ty Dolla Sign, and "Can I" feat. Tory Lanez. With the R&B star's newest album making waves as their best yet, you can't miss out on Kehlani's new era brought to life on stage at the Blue Water Road Trip Tour. Book those tickets now!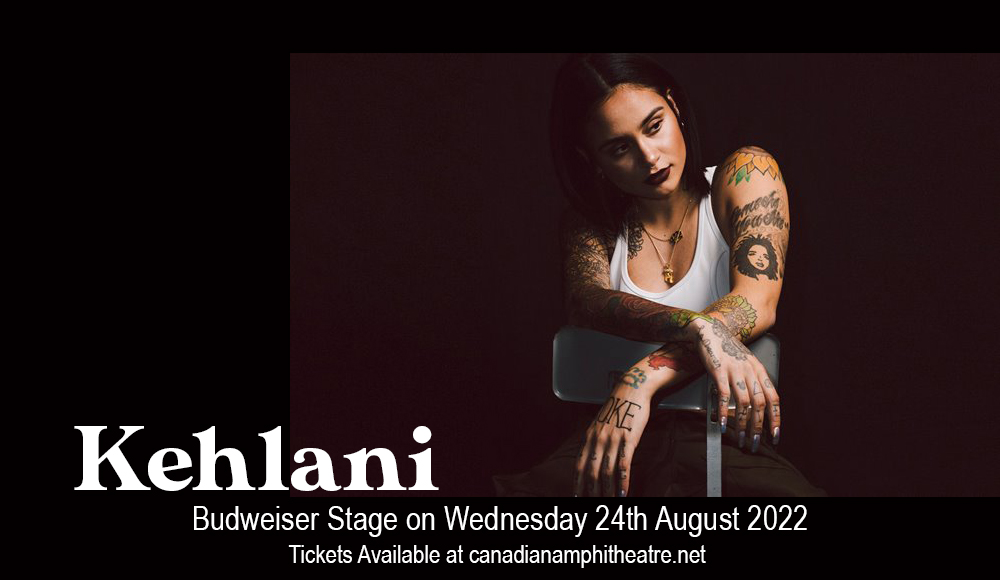 With "Blue Water Road" fresh from the vault, Kehlani took on the path of showing their maturity, exploring different themes driven by beautiful lyrical work. Pitchfork says that "blue water road is Kehlani's most mature album, as well as their most musically and thematically challenging… it shows that for all the skin Kehlani has shed over the years, they haven't even begun to scratch the surface."
Hailing from California, Kehlani grew up listening to R&B and neo-soul, citing influences Erykah Badu, Jill Scott, and Lauryn Hill. Their footprint in the music scene began when they were recruited to join the pop group, Popylife. With the band, they performed around the Bay Area, and auditioned for America's Got Talent, finishing at 4th place. Piers Morgan told Kehlani "You've got real talent, but I don't think you need the group".
After America's Got Talent, Kehlani left their band due to some management disputes and became pretty much homeless for a while. Host Nick Cannon called them to become part of a rap group which didn't work out, so they moved back to Oakland, struggling to get by. One day, Kehlani dropped their first song on Soundcloud named "ANTISUMMERLUV", with Nick Cannon calling them once again, buying them an apartment in LA with time to record in a studio.
In 2014, Kehlani dropped their first mixtape "Cloud 19", ranking at #28 on Complex's "50 Best Albums of 2014" and making it to Pitchfork's "Overlooked Mixtapes 2014". The following year, Kehlani released their second mixtape "You Should Be Here", which Billboard hailed as the "year's first great R&B album".
At the time, they were acclaimed by Complex as one of "15 Artists to Watch Out for in 2015" and by Rolling Stone in "10 New Artists You Need to Know".
With a growing audience, Kehlani started to make bigger waves, bagging a Grammy nomination for "Best Urban Contemporary Album" in 2016, and "Gangsta" being featured on the hit movie Suicide Squad's soundtrack.
In 2016, Kehlani released their debut album "SweetSexySavage" featuring their RIAA certified-platinum singles "Crzy" and "Distraction". From then on, Kehlani continued to take over the R&B scene through their following singles, collaborations, and albums.
Kehlani's best hits and most notable releases include "Good Life" with G-Eazy, "Honey", "Nights Like This" featuring Ty Dolla Sign, "I Like Dat" with T-Pain, "Take You Back" with Russ, and "Up at Night" featuring Justin Bieber.
Their best collaborations include "Done for Me" as a featured artist for Charlie Puth, "Playinwitme" (Kyle featuring Kehlani), and "Ring" as a featured artist for Cardi B.
Identifying as a Lesbian in 2021, Kehlani is an influential voice for the community.
With "Blue Water Road" fresh from the shelves, Kehlani is set to give it their all in this new era. Pitchfork says that it is "Kehlani's most mature and thematically challenging album is steamy and committed, more eager than ever to bet it all on love. They've never sounded more comfortable in their own skin".
Catch Kehlani's biggest and strongest era yet come to life at the Blue Water Road Trip Tour happening at Budweiser Stage this August 24th. Book those tickets now!