Budweiser Stage | previously Molson Canadian Amphitheatre
The Grammy-nominated singer, songwriter, and musician, Josh Groban is back to bring harmony to the stage as he kickstarts 2022 on his Harmony Tour stopping by at Budweiser Stage on Tuesday, 28th of June 2022. He's the man who raised us up in awe as he belts his crowd favorite rendition of "You Raise Me Up", taking the world by storm. He released his ninth studio record "Harmony" last 2020 featuring a number of singles including "The Impossible Dream", and "She". He is ranked as Billboard's 14th top-selling artist of the 2000s, selling over 25 million records, with 5 certified-platinum albums up his sleeve. Two decades on, Josh Groban marked a special place in listeners' hearts across the globe with his alluring baritone and 'some high notes up to his sleeve. Every Josh Groban show leaves the crowd in awe as sings his heart out to timeless hits and tracks of the last two decades. Set the year right and bring back harmony with Josh Groban live on stage. Book your tickets now!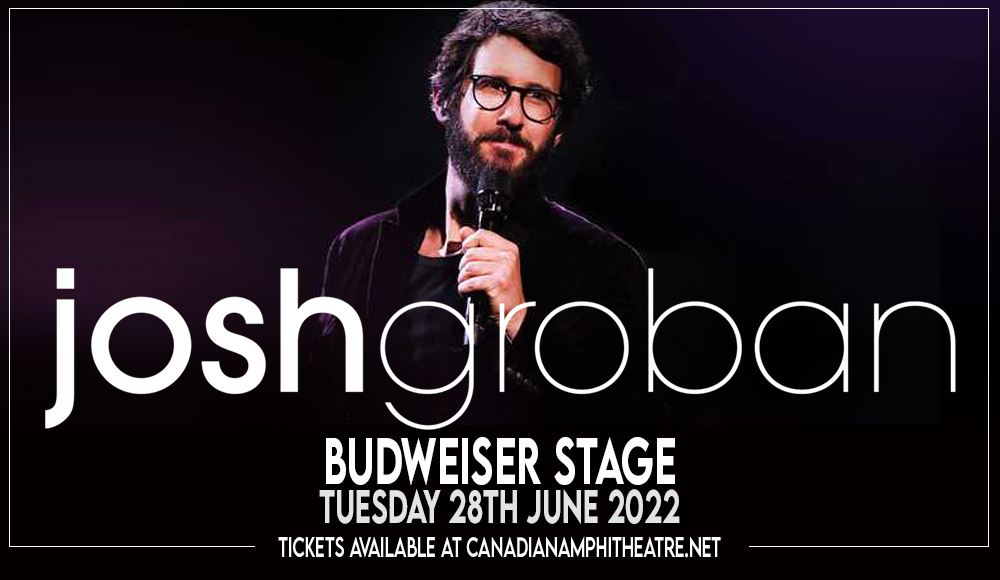 Josh Groban grew up in LA and sang in public for the first time in seventh grade as he performed a solo of "S'wonderful", picked by his teacher. At age 16, he met the Grammy Award-winning producer David Foster and his would-be manager, Brian Avnet, through his vocal coach at the time. He started working as a rehearsal singer for David Foster for various events including the 1999 Grammy Awards where he was a stand-in for Andrea Bocelli, rehearsing David Foster's "The Prayer" with Celine Dion.
From a stand-in, he later on actually sang "The Prayer" with Bocelli for the 2008 Grammy Awards which he described as a "full-circle moment", and with Celine Dion on a CBS special.
His first four records are all certified multi-platinum, with Noel awarded 6x Platinum by the RIAA. His album "Closer" was hailed as the best-selling classical album of the 2000s. He's been recognized by Billboard as the only artist to have two albums on the Top 20 Best-Selling Albums list.
It's been two decades of winning hearts and putting audiences in awe with his charm, majestic renditions of classic tracks, and solo hits. Listeners can't get enough of his performances of "Believe", "Ave Maria", "Brave", "You Raise Me Up", and much more timeless hits.
"I love to make music because I love how it reaches people… I love to be able to tell stories, and to be able to feel less alone through those stories" Groban said in an interview amidst the COVID-19 pandemic in 2020, the same year he released his latest record "Harmony".
As the world heals and stages across the country come back to life, the light of harmony waves as Josh Groban rises and brings the crowd the sound of music. Music can play a really wonderful part in staying sane through all this." Groban said in 2020. As the stage welcomes the crowd once again, book those tickets now!