Budweiser Stage | previously Molson Canadian Amphitheatre
With his uplifting, fireside singalong songs and mellow vibes, surfer-crooner Jack Johnson is the perfect pick for a warm summer night's entertainment! Coming to Budweiser Stage on Sunday 4th June 2017, the multi-platinum selling chart-topper is embarking on his first full-length tour since 2014, to promote his first new album since 2013! Come see this talented performer live!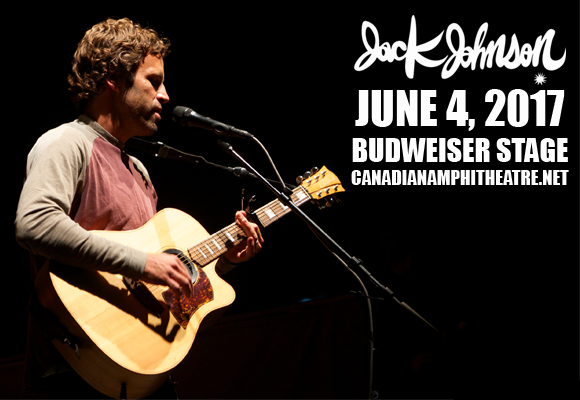 Discovered by fellow singer, songwriter and surfer Ben Harper, Jack Johnson made his first foray into the music industry when he was featured on G-Love's song "Rodeo Clowns" from the 1999 album Philadelphonic. Johnson released his debut album, Brushfire Fairytales, in 2001, to both critical and commercial success. A regular at the top of the charts, Johnson has had four number one albums on the Billboard 200 chart (Sing-A-Longs and Lullabies for the Film Curious George in 2006, Sleep Through the Static in 2008, To the Sea in 2010, and From Here to Now to You in 2013), and has peaked at number two on the Billboard 200 twice with his album In Between Dreams (in 2005, and again in 2013). Summer 2017 will see the release of Johnson's next album.