Budweiser Stage | previously Molson Canadian Amphitheatre
Iron Maiden comes to Budweiser Stage on Friday 9th August 2019 on the Legacy of the Beast Tour! This high-octane heavy metal riot sees Maiden pulling out all the stops, bringing fans a show that's bigger, better and more explosive than ever before!
"We've got all kinds of crazy things going on, including a replica Spitfire plane dominating the stage during Aces High, tons of pyro, a giant Icarus, muskets, claymores and some truly marvellous flame-throwers which I have a hell of a lot of fun with, as you will see!
"And of course we have Eddie, as you've never seen him before, and absolutely loads of other surprises.
"I've had the time of my life playing with all these magnificent props on stage, it's been fantastic, we can't wait to bring this show to you!"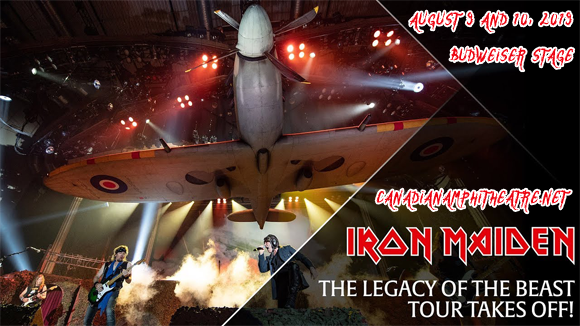 Formed in 1975 in East London, England, English heavy metal band Iron Maiden are pioneers of the new wave of British heavy metal and one of the most successful heavy metal bands in history, having sold over 100 million copies of their albums worldwide. The brainchild of bassist and primary songwriter Steve Harris, the group went through several line-up changes before releasing its eponymous debut album in 1980, which debuted at number four on the UK Albums Chart. After the release of the group's first two albums, vocalist Paul DiAnno was replaced by former Samson vocalist Bruce Dickinson, who fronted the band throughout their the band throughout their most successful period (1981 – 1993). Iron Maiden released a string of gold and platinum certified albums throughout the 1980s, including: The Number of the Beast (1982), Piece of Mind (1983), Powerslave (1984), Live After Death (1985), Somewhere in Time (1986) and Seventh Son of a Seventh Son (1988). Upon Dickinson's 1993 departure, the group brought in Wolfsbane vocalist Blaze Bailey, who fronted the band from 1994 – 1999 and released two albums with the group (1995's The X Factor and 1997's Virtual XI). Dickinson returned to front the band in 1999 and remains their lead vocalist currently. In 2002, the band won the Ivor Novello Award for international achievement, and as of 2013, they have played over 2000 live shows.