Budweiser Stage | previously Molson Canadian Amphitheatre
Are you ready for the biggest show of the year?? It's time to get exited, because none other than the legendary Incubus, with support from the amazing Jimmy Eat World, will rock the Budweiser Stage on Saturday 22nd July 2017! With their upcoming new album still under wraps, but a release date for their new single, "Nimble Bastard" set for February 2016, this will be Incubus' first fresh offering in over 6 years! Fans get ready to go wild! Buy your tickets NOW!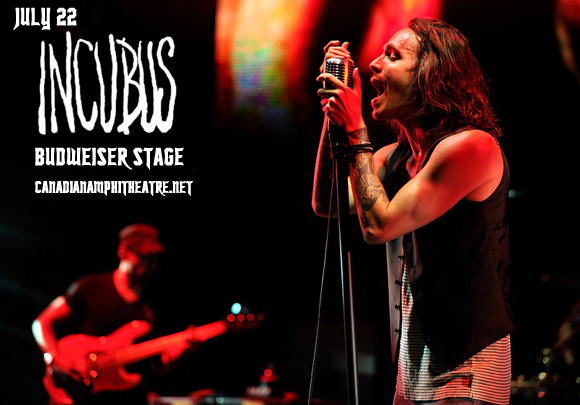 Over time, Incubus has seen a lot of changes through genre and style. Really, they can't be labelled – over the course of their career, they've fitted neatly, at one time or another, into genres as diverse as heavy metal, jazz, pop, techno, post-grunge, and trip-hop, and used a variety of instruments such as the sitar, bongos and digeridoo – instruments rarely seen in contemporary popular music, let alone rock.
Such diversity is hugely impressive, but you would think flip-flopping between genres would have the potential to alienate fans of the previous sound – not so. Since their initial commercial breakthrough in the early 2000's, Incubus have simply grown their fanbase and had more success, having now hit multi-platinum sales and sold over 23 million albums across the world.
However, although the band are being very tight-lipped about their new release, keeping us all in suspense, they have indicated that their new release will be a return "to roots" and to the guitar-based sound of their earliest albums, which will please fans of the time. Whatever it is YOU love about Incubus, get ready to experience it live with a spine-tingling show that will leave you breathless!