Budweiser Stage | previously Molson Canadian Amphitheatre
Don't miss this outstanding line-up! Coming LIVE this summer is Heart, Sheryl Crow & Elle King! Budweiser Stage opens it's doors for an exciting night on Sunday 14th July 2019 – as the legendary rockers, Heart come to wow the crowd with their unforgettable hit songs! If you love their music then don't miss them as this opportunity only comes around once in a blue moon! Tickets available NOW!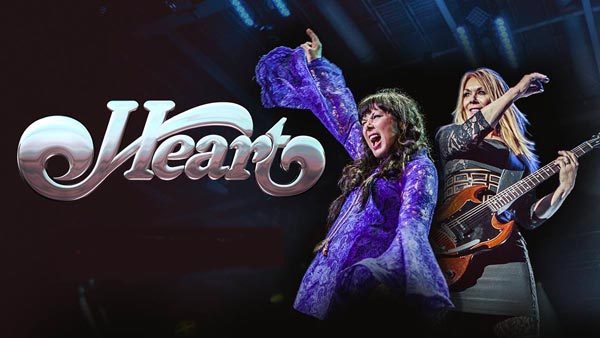 As one of the biggest bands of all time, Heart have transformed the music scene as we know it, from their groundbreaking singles during the 1970's right up until the 1990's – these rockers proved they had what it took to go big. With fans hailing from Canada, the United States and around the world also – they showcased their effortless blend of sound and took the world by storm!
This change on the music scene meant that fans followed their every move and Ann Wilson (lead vocals, flute and guitar) and Nancy Wilson (guitar, mandolin and vocals) just couldn't believe their eyes. Heart have taken to the stages countless times and always give a performance that stays true to when they first came to light in the mainstream. This female fronted group had major success during the mid 1970's with their rock infused anthems and then later In the 1985, as they took their career to the maximum once again with unforgettable ballads.
With all of this in mind, it's easy to see why they have gained the amount of success that they have. And just to prove this, to this day, Heart have sold over 35 million records across the globe, 22.5 million album sales in the US alone and received an induction into the Rock and Roll Hall of Fame – a triumph to add to their collection.
If you love Heart then come and see them live this summer concert season as the chance might not come again for the legendary group! There's no time like the presence to book your tickets and guess what, Sheryl Crow will also be on the bill! What a chance to catch some of the best female acts of all time.
"Ann Wilson ranks among the premier female rock vocalists of all time and this performance only serves to cement her reputation as she easily transitions from delicate early classics like "Dreamboat Annie" to power ballads such as "These Dreams" into scorching rockers like "Crazy on You.."