Budweiser Stage | previously Molson Canadian Amphitheatre
The American singer-songwriter — defying the current and proudly exclaims that if she 'can't have love, she wants power, Halsey, is set to conquer the stage on a tour in support of her latest record, "If I Can't Have Love, I Want Power". The woman, or the 'God rather who sings 'keep your heart 'cause she's already got one off of her new single "I'm Am Not a Woman, I'm a God", is making a stop at Budweiser Stage on Sunday, 5th of June 2022, to perform for the empire of fans she amassed on her 'castle with certified-platinum hit singles "Bad at Love", "Him & I" with G-Eazy, "Eastside" with Benny Blanco and Khalid, "Be Kind" with Marshmello, "Graveyard", and many more! There's no taming down the electrifying current that Halsey led, and she's back to share the power and spend it on a majestic night with her fans live on stage. Book your tickets now!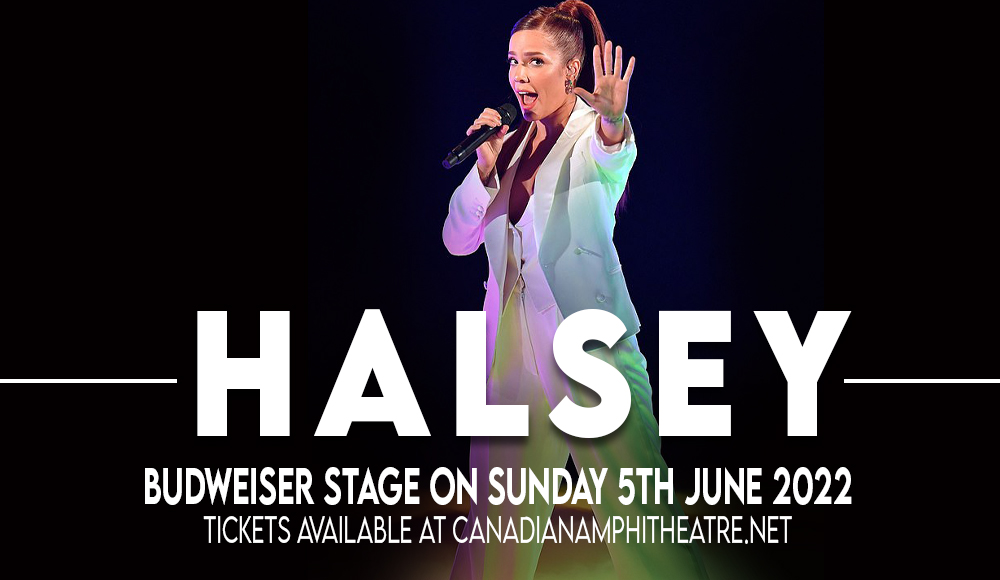 Ashley Nicolette Frangipane, or Halsey as we know the goddess herself, was born in New Jersey, faced a rough start and got through life with music shaping her for the better. She played the violin and cello before switching to the guitar at 14. At 17, she started writing music at Halsey Street in Brooklyn, to which she took her permanent stage name from Halsey became known for her brutally honest lyrics that exude integrity as music became her "confessional approach", something therapeutic after rough moments in life.
"That's where I first start[ed] writing music and where I started to feel like I was a part of something bigger than my town in the middle of nowhere New Jersey. Halsey is kind of like a manifestation of all the exaggerated parts of me, so it's like an alter ego." Halsey said.
In 2012, she started posting videos on YouTube, Kik, and Tumblr, including a notable parody of Taylor Swift's "I Knew You Were Trouble". By 2014 she collaborated with a "music guy" who praised her voice, and released "Ghost" on Soundcloud, to which labels left and right started contacting her.
Her debut record "Badlands" hit #2 on the Billboard 200, featuring the certified-platinum singles "Ghost", "New Americana", "Colors", and "Castle". From then on, she was propelled to greater heights with various collaborations throughout the years including 2016's massive hit "Closer" by Chainsmokers, Justin Bieber's "The Feeling", "Boy with Luv" by BTS, "Machine Gun Kelly's "Forget Me Too", and so on.
Her next albums "Hopeless Fountain Kingdom" and "Manic" also marked big success being both certified-platinum featuring hit singles and crowd-favorites including "Now or Never", "Without Me", "Bad at Love", and "You Should Be Sad".
She kicked off 2021 with the release of her 4th studio record "If I Can't Have Love, I Want Power", opening up to the press about her journey with pregnancy and endometriosis, and her album as a milestone for herself. "I think that the weight of … a female artist [is] deciphering time as not your enemy when you've been taught for so long to think that it is. 'Don't get too old. Don't get pregnant because then you can't go on tour," said Halsey in an interview with Apple Music.
"It's really nice to be able to look at time as an ally, where for me time has been the best thing that's ever happened to me. It's allowed me to grow and allowed me to heal and allowed me to develop."
The woman of power whose career defied stigmas and doubts, is back and even more powerful than ever, ready to hold electrifying nights on her Love and Power Tour. Cath the goddess herself live on stage as she sets up the 'castle at Budweiser Stage real soon. Book your tickets now!