Budweiser Stage | previously Molson Canadian Amphitheatre
Are you ready for the metal concert of the year?? Five Finger Death Punch are back, on a massive co-headlining tour with Breaking Benjamin in support of their brand new upcoming album!! They're coming to the Budweiser Stage on Monday 20th August 2018 – DON'T miss it!! Tickets are on sale now and selling fast – grab yours while you can!!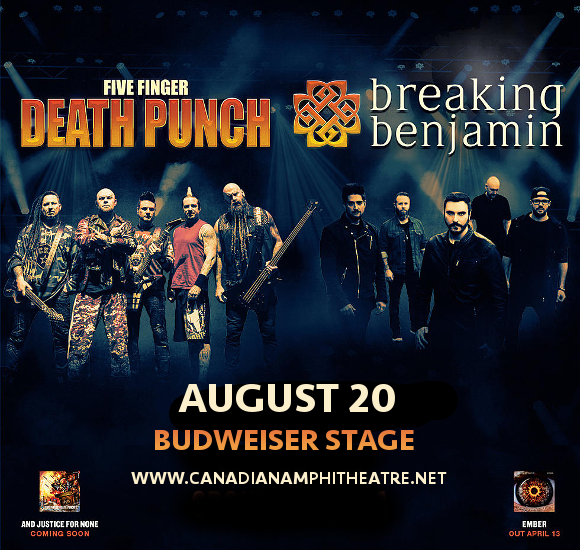 Formed of band members Zoltan Bathory, Jeremy Spencer, Ivan L. Moody, Jason Hook and Chris Kael, Five Finger Death Punch took the metal world by storm with their very first album, "The Way of the Fist" in 2007, and since then have seen nothing except a rapidly growing following and massive worldwide success. Now the band are on tour with their upcoming seventh album, "And Justice For None".
"You know, it's one of those things that DEATH PUNCH, we are what we are," was bassist Christ Kael's straightforward answer when asked whether the sound of their upcoming album would differ much in comparison to their previous work. "Six records into it, now seven, we've kinda got our thing, got our sound, our tones, the themes for the songs and whatnot. There are some little kind of different departures on this record, but I wouldn't say we've gone and changed the sound."