Budweiser Stage | previously Molson Canadian Amphitheatre
Duran Duran fans — here's something that you should know! The wild boys of new wave – pop group, Duran Duran are headed out to set concert tracks ablaze with their 2022 tour. This 14-date North American headline tour is in support of their 2021 album, "Future Past". Joining Duran Duran as a supporting special guest is non-other than the legendary Nile Rodgers. Nick, Roger, John, and Simon are all set to fire up the Budweiser Stage on Monday 22nd August 2022, with their ammo of hits which include "Is There Something You Should Know", "Hungry Like the Wolf", "Rio", "Wild Boys", "View To A Kill", and many more. Fans are definitely hungry for tickets. No need to go on a hunting spree, as tickets are available here for you and your pack of Duranies by clicking on the 'Get Tickets' link on this site. Hurry score those tickets now!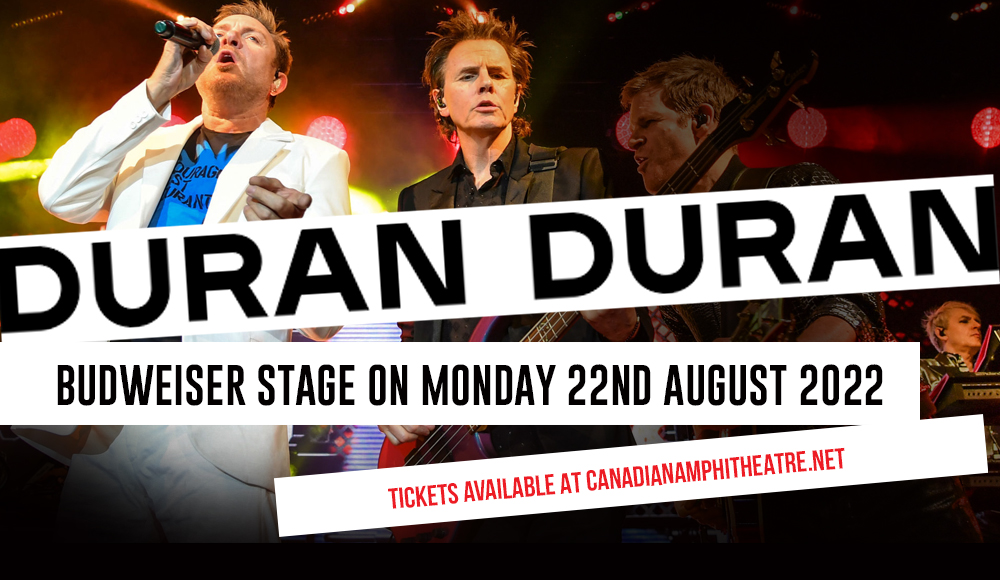 Duran Duran was at the forefront of the so-called Second British invasion that happened in the 80s. Highly driven by MTV, Duran Duran filled TV screens with their hot looks, impeccable sense of fashion, sleek and glamorously produced music videos. Yet the band proved that they were more than just eye candy. The pulsating beats and infectious rhythms of their music were the ultimate driving factors that catapulted them to greater heights and established their quintessential influencers of current modern music.
Lead vocalist Simon Le Bon described the group as "the band to dance to when the bomb drops". Indeed, Duran Duran created a colossal explosion with their fire-powered, chart-busting singles like "Rio", "New Moon On Monday", "Union of The Snake", "Save a Prayer", "Is There Something You Should Know", "Hungry Like the Wolf", "Rio", "Wild Boys", "View To A Kill", "The Reflex" and many more.
Touted as one of the world's best-selling music artists, Duran Duran has sold over 100 million records. Chart success records count to 30 top 40 singles in the U.K., 14 singles in the top 10 of the UK Singles Chart, and 21 in the US Billboard Hot 100. The band has won numerous awards throughout their career: two Brit Awards including the 2004 award for Outstanding Contribution to Music, two Grammy Awards, an MTV Video Music Award for Lifetime Achievement, and a Video Visionary Award from the MTV Europe Music Awards, plus the highly coveted star on the Hollywood Walk of Fame. The band was nominated for induction into the Rock & Roll Hall of Fame as part of the class of 2022.
And of course, the band has a fiercely loyal pack of 'Duranies', with
Simon Le Bon giving them their due recognition: "This distinction is due in large part to the fact that we have an army of fans around the world who have unwaveringly supported us for the past four decades".
Follow your reflexes, driving you to click that 'Get Tickets' link now!