Budweiser Stage | previously Molson Canadian Amphitheatre
Award-winning Canadian country music superstar Dean Brody is up for yet another highly-anticipated live show happening at the Budweiser Stage on Friday 24th September 2021. Still reeling in from his recent triumph in the charts, the single "Can't Help Myself" (Dean and The Reklaws) not only hit #1 on Canadian country radio, and became the most-streamed Canadian country song in Canada released in 2020 to date. Then Dean recently broke this record with his follow-up single "Canadian Summer". Now feel the heat and the intense anticipation for this concert from his loyal and solid fanbase. Grab your tickets asap, as tickets for a Dean Brody concert are sure to fly off the shelves in no time. Book your tickets now!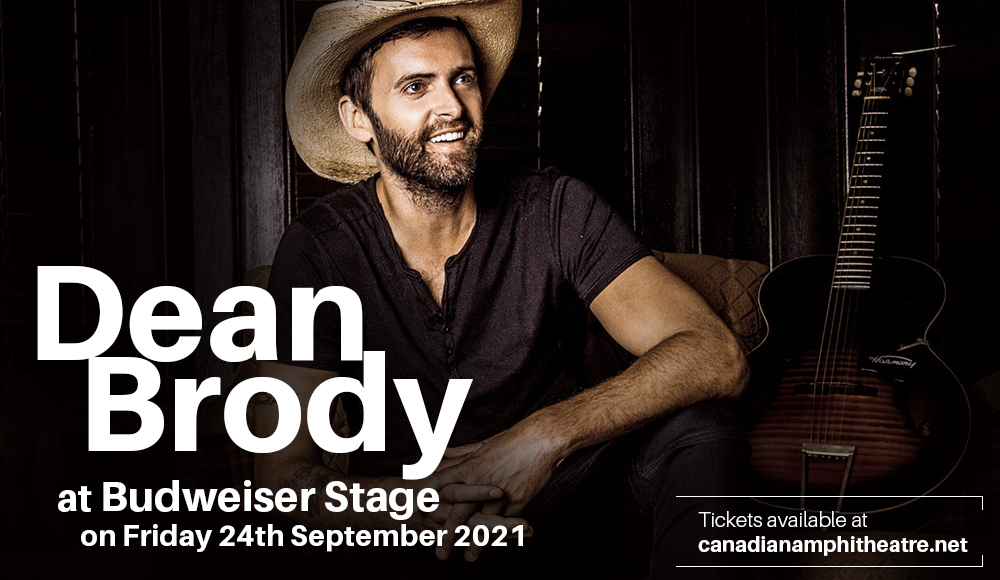 The single "Brothers" started it all. It seemed to have happened overnight, but Dean Brody has had his share of setbacks like a false start in Nashville due to an expired work permit and an injury from a water skiing accident. It was all a matter of time until Dean Brody undauntingly picked up from where he left off and unleashed the single the took him to the top 40 charts in the US. Then by the time he released his third album, "Dirt", Dean Brody was picking up awards including the 2012 CCMA Album of the Year award and a 2013 Juno nomination for Country Album of the Year. Brody also won the 2012 and 2013 CCMA Male Artist of the Year awards. His winning streak continued as Brody's sixth album, "Beautiful Freakshow", was released in 2016, and recently earned the singer 3 awards at the 2017 CCMA Awards show, including Fan's Choice, Songwriter of the Year, and Top-Selling Canadian Single of the Year for "Bush Party".
Dean Brody's resume contains an impressive 27 Top-10 singles (including 5 #1s), 17 CCMA Awards, 2 JUNOs, more than 185 million global streams, and numerous gold and platinum (including 1 double platinum) certified singles.
Fans' love for Dean Brody cannot just be measured by chart ranks and numbers. His multitude of followers expresses their 'Brody love' during his live shows as he achieved record-breaking live concert attendance figures — a record which he has been holding for the last 5 years with three national arena tours (2 breaking ticket sale records), an acoustic national tour as well as headlining the biggest festival and venue stages. Brody recently headlined one of the largest and most iconic venues in the country, The Budweiser Stage. And on this same stage, he returns… Catch Dean Brody make history once again. Be there when it happens. Book your tickets now!