Budweiser Stage | previously Molson Canadian Amphitheatre
Dave Matthews Band comes to Budweiser Stage on Wednesday 10th July 2019! The band, which has sold more than 100 million tickets since its inception, is one of North America's most popular touring acts and it's easy to see why – every DMB show is utterly unique and always engaging! Enjoy tracks from the band's most recent album, Come Tomorrow (2018), as well as classic Dave Matthews Band tunes and a few surprises!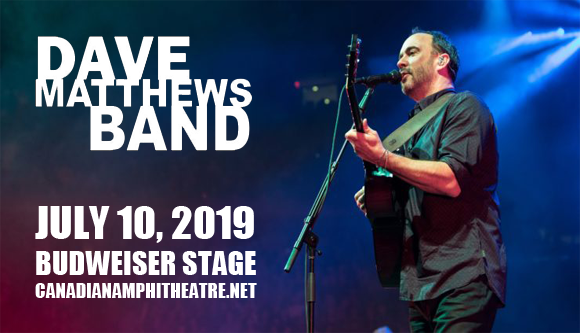 From frat house college band to one of the most popular live acts in the US, Dave Matthews Band's journey started in 1991 in Charlottesville, Virginia. After gaining a huge local following via live shows and radio play, the band were signed to RCA Records, releasing their debut album, Under the Table and Dreaming, on the label in 1994. The album was a success, launching three hit singles, and over time has been certified six-times platinum by the RIAA. Crash (1996), the group's follow-up album, also scored several hits, as well as a Grammy Award for Best Rock Performance by a Duo or Group for the song "So Much to Say". Over the years, the band has become even more popular, and is known for its varied live shows, where the band performs its songs differently each time. To date, the group has sold more than 100 million tickets, and a collective 91 million CDs and DVDs combined. Dave Matthews Band is the first group to have seven consecutive number-one albums on the Billboard 200 – their seventh being their most recent album, Come Tomorrow (2018).