Budweiser Stage | previously Molson Canadian Amphitheatre
If one were to generate a heat map on the most-streamed songs and do a quick scan of what's on everyone's playlist today, you could bet your bottom dollar that you'll most likely find songs of Daniel Caesar in there. The now generation is totally obsessed with him. And each time he drops an announcement on his social media about his tour dates, his hashtags shoot up high trending levels. Now brace yourselves for there's another one coming…Daniel Caesar is coming at you live at the Budweiser Stage on Sunday 29th September 2019. Now that you've posted a reax and made a shoutout to your mates, it's time to hit that 'buy tickets' button now!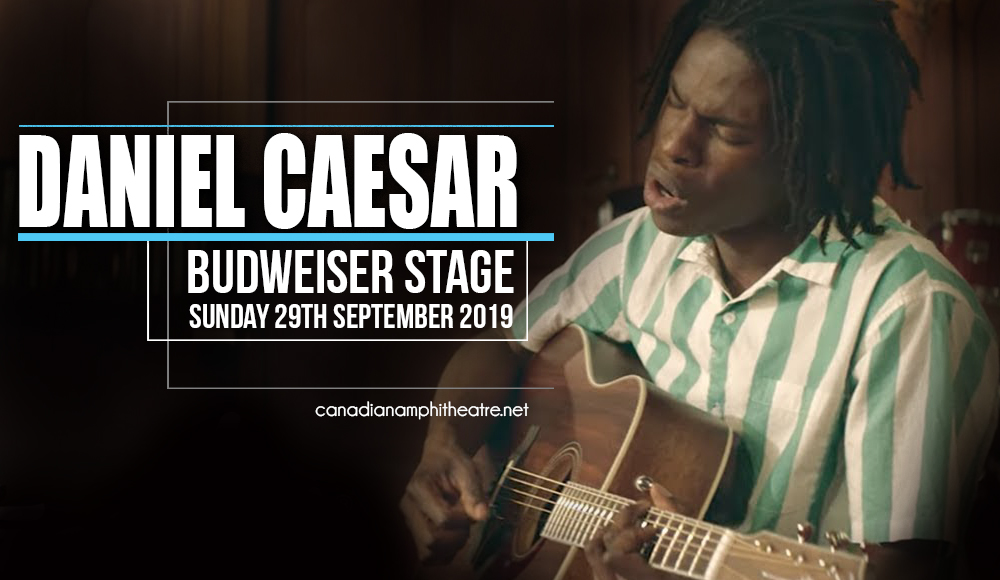 His raw emotions and soft-soul music style that scream unrequited love is totally relatable and addicting. Rolling Stone magazine describe it as "an immersion into an atmospheric pool of turbid emotion".
From being relatively unknown, Daniel Caesar shot up to trending status with his 2014 breakout EP Praise Break which readily earned him recognition as of one the "20 Best R&B Albums of 2014" by Rolling Stone. From there, there was no stopping him Caesar as he unleashed the single "Get You" which amassed over 10 million streams on Apple Music. As of June 2018, three of his most-streamed songs have accumulated a total of 249 million streams on Spotify.
And fans obssesively devoured on his music, not only critics raved at this soul singer with a golden voice, but awards and recognition started pouring in. Caesar was nominated for two awards at the 60th Annual Grammy Awards, for Best R&B Album and Best R&B Performance for his single "Get You". The following year, Caesar scooped up the Grammy Award for Best R&B Performance for his single "Best Part" at the 61st Annual Grammy Awards.
Daniel Caesar is on a roll! Fans will stop at nothing until they get tickets to the show. Hurry and grab this hot ticket now!