Budweiser Stage | previously Molson Canadian Amphitheatre
He's that guy millennials have been raving about! Daniel Caesar's tour announcement has trended in many social media places. With his ambient, acoustic, coffeeshop-pop vibe, fans have been eagerly anticipating his current album tour dubbed as CASE STUDY 01. Daniel Caesar along with rising star Koffee is all set to take over the Budweiser Stage on Saturday 28th September 2019. Mark this date and lock-in your tickets now!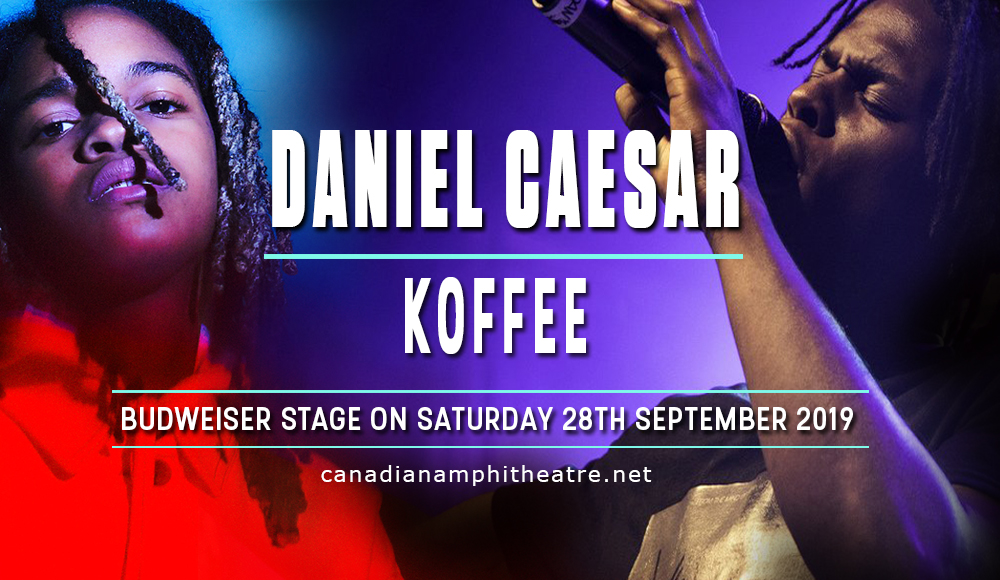 What's on your playlist? Chances are, you've got Daniel Caesar songs in there and on constant repeat. Fans are simply obsessed with his ambient, acoustic, coffeeshop-pop vibe. Thus it comes as no surprise that Caesar's EP Praise Break garnered widespread critical acclaim, and was ranked number 19 on the "20 Best R&B Albums of 2014" by Rolling Stone. He is also one of the most-streamed current artists, with his most-streamed songs garnering a cumulative total of 249 million streams on Spotify. At the Caesar was also nominated for two awards — Best R&B Album and Best R&B Performance for his single "Get You" at the 60th Annual Grammy Awards. The following year, he finally bagged the coveted Best R&B Performance for his single "Best Part" at the 61st Annual Grammy Awards.
Daniel Caesar's biggest singles include "Get You", "Blessed", and "We Find Love". His singles are laden with raw emotions, usually dealing with unrequited love. Rolling Stone magazine describe it as "an immersion into an atmospheric pool of turbid emotion".
This show guaranteed to be lit, in every sense of the word. Tickets are on the move so get yours now!