Budweiser Stage | previously Molson Canadian Amphitheatre
Multi-platinum singer Charlie Puth is back, and he's headed to Budweiser Stage on Wednesday 11th July 2018! The "Marvin Gaye" performer releases his sophomore album, Voicenotes, towards the end of 2018 and is touring with actress and singer Hailee Steinfeld this summer, performing fresh new material from his upcoming LP!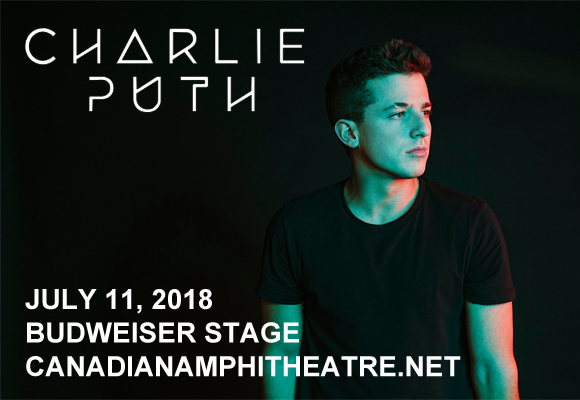 Charlie Puth first came to public attention in 2009 through his YouTube channel Charlie's Vlogs, where he posted acoustic covers and comedy videos. After winning the Perez Hilton competition Can You Sing? in 2011, Puth signed with eleveneleven, Ellen Degeneres' label. In 2015, Puth signed his second recording contract, with Atlantic Records, having left eleveneleven previously. That year he wrote, co-produced and featured on the Wiz Khalifa track "See You Again", which was nominated for three Grammy Awards, and he dueted with Meghan Trainor on "Marvin Gaye", which went 2x platinum in Australia and went to number one in several countries around the world. Puth's debut album, Nine Track Mind, was released in January 2016 and his follow-up, Voicenotes, will be released in winter 2018.