Budweiser Stage | previously Molson Canadian Amphitheatre
Heads up, all fans of amazing, groundbreaking hip-hop! None other than Chance The Rapper will headline the Budweiser Stage on Wednesday 24th May 2017!! This is NOT an event to miss – click the button above to get your tickets, make note of the date, and show up good and early to ensure you get the best spots possible!!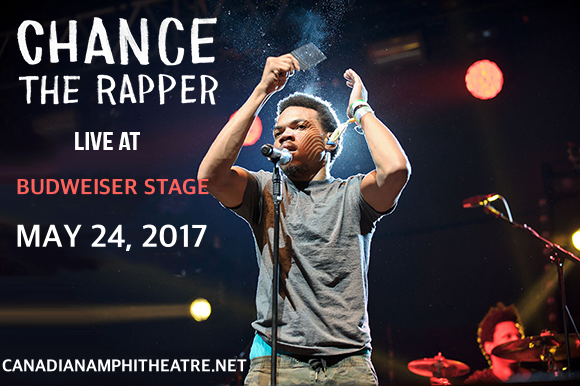 Hailing from West Chathan, in Chicago, Illinois, Chance The Rapper (non-stage-name Chancelor Johnathan Bennett) is a group member of Save Money, a Chicago collective, and is lead vocalist for the band The Social Experiment as well as producing, songwriting, and singing his own solo material. His second mixtape "Acid Rap," began to gain him global recognition as a solo artist in 2013, and from then on he's received nothing but praise from critics. His most recent mixtape, 2016 "Coloring Book," has pulled out all the stops and broken records! Released as a streaming-only album, it was streamed over 57.3 million times in its first week alone, hitting spot number 8 on the Billboard 200. The release led him to be recently awarded with no less than THREE Grammys (including Best Rap Album) for "Coloring Book" – which in addition to being the first release ever to chart purely on streams, is also the first streaming-only album EVER to be nominated for and receive a Grammy award!!
Now embarking upon his Magnificent Coloring Tour (an event announced with a show featuring Lil Wayne and Skrillex in September 2016!!) Chance the Rapper looks set to wow audiences in the flesh. So what are you waiting for? Grab your tickets now!!