Budweiser Stage | previously Molson Canadian Amphitheatre
Get ready to 'cut to the feeling and hit the 'western wind as Carly Rae Jepsen embarks on her brand new So Nice Tour kicking off this fall. The "Call Me Maybe" hitmaker is set to take over at Budweiser Stage on Thursday, 22nd of September 2022. She's also bringing along the American rock one-man band, Bleachers, to the stage. Jepsen just recently shared her new single "Western Wind" where she takes on a warm breeze, bringing the feeling of home to one's ears. As Carly Ra Jepsen kickstarts the So Nice Tour, you can't miss out on her biggest hits, fan favorites, and big surprises live on stage. So, book those tickets now!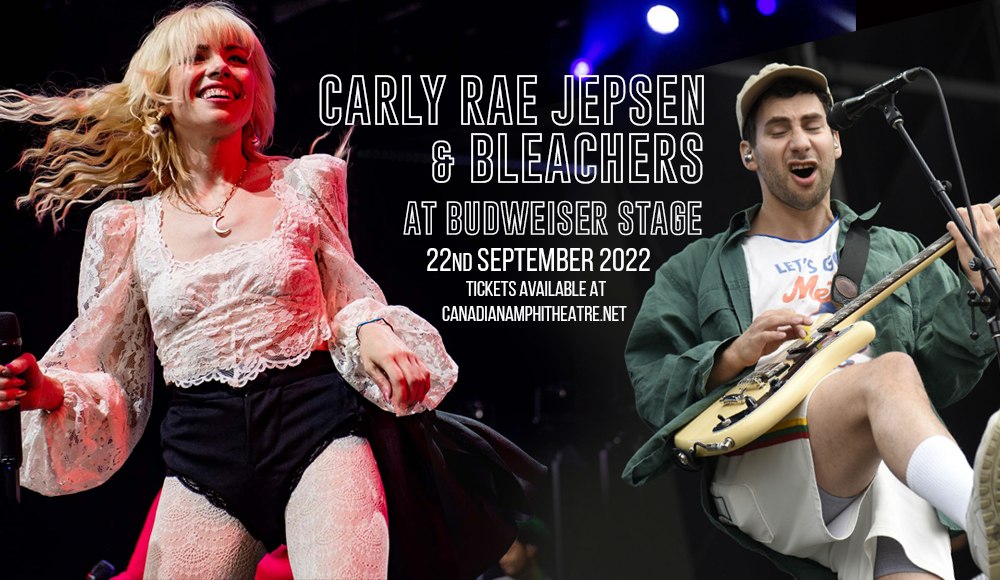 Multi-Grammy Award-nominated singer-songwriter Carly Rae Jepsen came crashing into the scene with her 2012 breakout hit single "Call Me Maybe". From then on, she spawned global attention and acclaim, becoming a staple favorite among the pop crowd. She dropped a slew of hits and fan-favorite tracks over the past decade including "Good Time" with Owl City, "Tonight I'm Getting Over You", "I Really Like You", "Cut to the Feeling", and "Party for One".
Last 2019, she released her fourth studio record "Dedicated" featuring her singles "Party for One" and "Now That I Found You" among others. A year later, she dropped "Dedicated Side B" featuring outtakes from her fourth record. Since her big break in 2012, fans have always clung unto Carly's romance hooks and vulnerable lyrics that hit close to home.
At the onset of 2022, Carly Rae Jepsen teased a new song "Western Wind" on a billboard in California, debuting the track on stage at Coachella. The song was released on May 6th, with Carly bringing the chill breeze in a tribute to California singing "First bloom, you know it's spring/Reminding me, love, that it's all connected".
With rumors of a new album in the works, fans have to wait until Jepsen makes a big official announcement. For now, she dropped the big news of a new tour happening this fall. Fans can expect big surprises that Carly has in store on stage at the So Nice Tour.
"We've had the loneliest time… but after 3 years, the SO NICE tour is coming to your city," Carly wrote on Instagram.
Since her big break with "Call Me Maybe", fans have been calling and cheering Jepsen year after year for her magical work that touches hearts around the globe. In 2019, Insider called her the "Artist of the Decade" for her "impact extends far beyond music, as she's often celebrated as a queer icon".
As a shining star in the pop scene, Carly Rae Jepsen found a special place in millions of fans' hearts through her sophisticated pop tracks that one would relate to. So, feel the breeze, take on the western wind, and get ready for big surprises led by the one and only Carly Rae Jepsen at the So Nice Tour by booking those tickets now!