Budweiser Stage | previously Molson Canadian Amphitheatre
She just had a successful European tour stint, an impressive performance at Coachella, Gold and Platinum certifications, and several viral and Billboard chart-topping hits. You may expect such lofty credentials to come from a seasoned veteran artist… But wait, all that and more are from the resume of a seventeener whose star is now shooting up to high heavens…Billie Eilish is one of today's fastest and brightest stars on the rise! And yes, this young artist can command a stage all on her own as she is now trekking the high road of a headlining tour. Billie Eilish's "WHEN WE ALL FALL ASLEEP" North American tour is headed this way to the Budweiser Stage on Tuesday 11th June 2019. Tickets are moving fast so make sure you've got one before they sell out. Book your tickets now!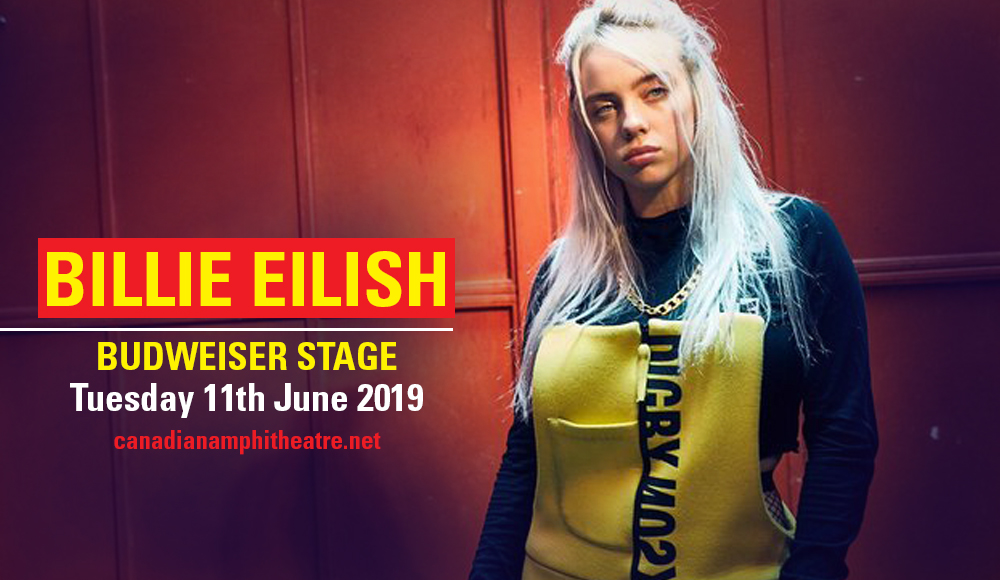 "Ocean Eyes" was the single that broke out from Sound Cloud and turned Billie Eilish into one of today's brightest pop stars. This 17-year old singer-songwriter works closely with her equally talented brother who wrote and produced the song for her.
"Aside from singing, I'm also a dancer. I've been dancing since I was eight. Last year, one of my teachers asked if I would write a song or have my brother write a song to choreograph a dance to. I was like 'yes that's such a cool thing to do!' Then my brother came to me with "Ocean Eyes", which he had originally written for his band. He told me he thought it would sound really good in my voice. He taught me the song and we sang it together along to his guitar and I loved it –it was stuck in my head for weeks. .. We put it on Soundcloud with a free download link next to it so my teacher could access it. We had no intentions for it really. But basically, overnight a ton of people started hearing it and sharing it…"
With "Ocean Eyes" raking in over a million streams, Billie Eilish struck while the iron was hot. She immediately followed it up with the song "Six Feet Under," which then attracted and built her growing stream of followers. In 2017, Billie Eilish another single entitled "Bellyache" and "Idontwannabeyouanymore" from the EP "Don't Smile at Me" (Eilish's debut EP).
Billie Eilish has covered new grounds in the live performance arena, and this headliner tour is one of that every fan should experience. With her artist depth and range of talents and exuberant showmanship, this is one show that will rouse your senses and put you in high spirits. Don't miss it!