Budweiser Stage | previously Molson Canadian Amphitheatre
Indie rock fans, listen up!! Are you ready to welcome Bastille back to the Budweiser Stage on Friday 20th September 2019!? That's right – it's been 5 years since their last album, but now, the band are hitting the road with the Doom Days Tour: Part 1 in support of their brand new record of the same name. Don't miss your chance to catch them live – grab those tickets today!!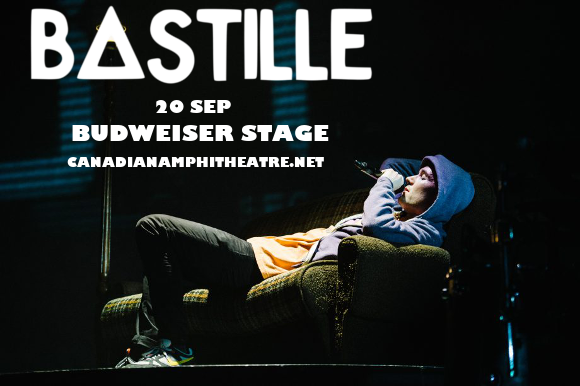 Comprised of band members Dan Smith, Kyle Simmons, Will Farquarson, and Chris "Woody" Wood, Bastille made waves on the popular music scene in 2013 with the album "Bad Blood," which hit No.1 on the UK singles chart, earned the band a nomination for a Brit Award, and blasted the band to global popularity. They kept this going strong with their follow up, "Wild World," and sold-out tours around the world, before taking a break to work on new material. The new album was preceded by the new single, "Joy".
"Joy is the moment at the end, almost that moment of redemption when you wake up on the kitchen floor and all of the anxieties come flooding in," singer Dan Smith said in an interview, discussing the song's meaning. "Something as simple as a call or a message from somebody can bring you back at that moment and rip the piss out of you, make you feel ridiculous for the state you were in."
Well, don't just wait around – those tickets aren't going to!! Get yours while they last!