Budweiser Stage | previously Molson Canadian Amphitheatre
Canada's pride and joy. Arkells is a multi-awarded alternative rock band that is triumphantly returning to the premier live concert venue, the Budweiser Stage, on Saturday 14th August 2021. Indeed, they will shake things up and keep the vibrant energy flowing. Expect their setlist to be a chockful of their best-loved hits: "Leather Jacket" and "Knocking at the Door." You're also likely to hear many of the band's other singles, such as "Oh, the Boss Is Coming!" "Ballad of Hugo Chávez," "Pullin' Punches," "John Lennon," "Whistleblower," "Michigan Left," "On Paper," "Come to Light," "Never Thought That This Would Happen," "11:11," "Private School," "My Heart's Always Yours," "People's Champ," "Relentless" and "Hand Me Downs." Before you burst with excitement, get your fingers clicking and book your tickets now!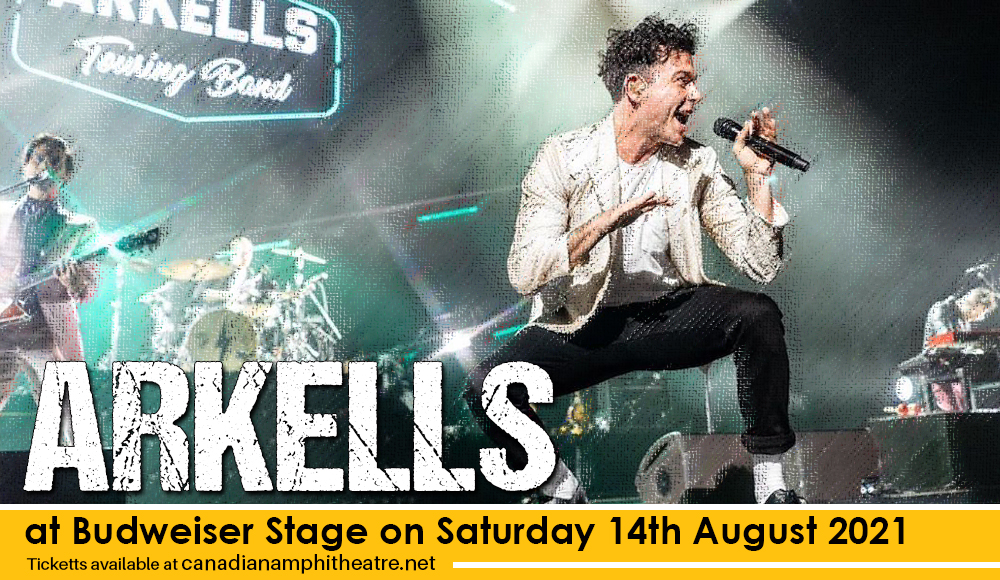 Arkells had their humble beginnings in Hamilton, Ontario. As residents of Arkell Street in the Westdale neighborhood of Hamilton, and a place where they frequently held rehearsals, the band, formerly known as Charlemagne, chose the name Arkells after they were threatened with a lawsuit by another band who also used the same name. From there, the Arkells' road was paved with successful milestones that they enjoy to this day.
On the 28th of October 2008, Arkells released their debut album "Jackson Square". The album gained good traction in the charts brought them an amazing win for favorite new artist CASBY Award (short for Canadian Artists Selected by You) from Toronto radio station 102.1 The Edge. The following year in April 2010, Arkells won the Juno Award for New Group of the Year. The band has so far released five studio albums, and four of these studio albums were certified gold, namely "Jackson Square", "Michigan Left", "High Noon" and "Morning Report".
Many attest that Arkells is best experienced live and literally kicking with boundless energy and amazing showmanship.
"We've spent the past 10 years on the road playing shows, and it's a trade we're always trying to improve upon," Notes Kerman. "We might be a little rusty coming back, but we can promise there will never be as much giddy, childlike excitement for our return to playing shows. We're already practicing up!"
"It's been a long haul, but we kept telling ourselves to be patient – when shows come back, we're going to do it big, and we're going to do it right," says frontman Max Kerman. "This event is billed as a long weekend because it'll feel like a celebration that we've yearned to have together. There's no better place for it."
Catch Arkells at Budweiser Stage on Saturday 14th August 2021. Book your tickets now!