Budweiser Stage | Toronto, Ontario
Canadian award-winning alternative rock band. Arkells are due to take over the Budweiser Stage on Friday 13th August 2021. This triumphant return to the live stage is making fans giddy over experiencing Arkell's fun and irrepressible energy and looking forward to sing along with their smash hits like "Leather Jacket" and "Knocking at the Door," and so much more. It's good to save this date on your calendar. Yet better to book your tickets now!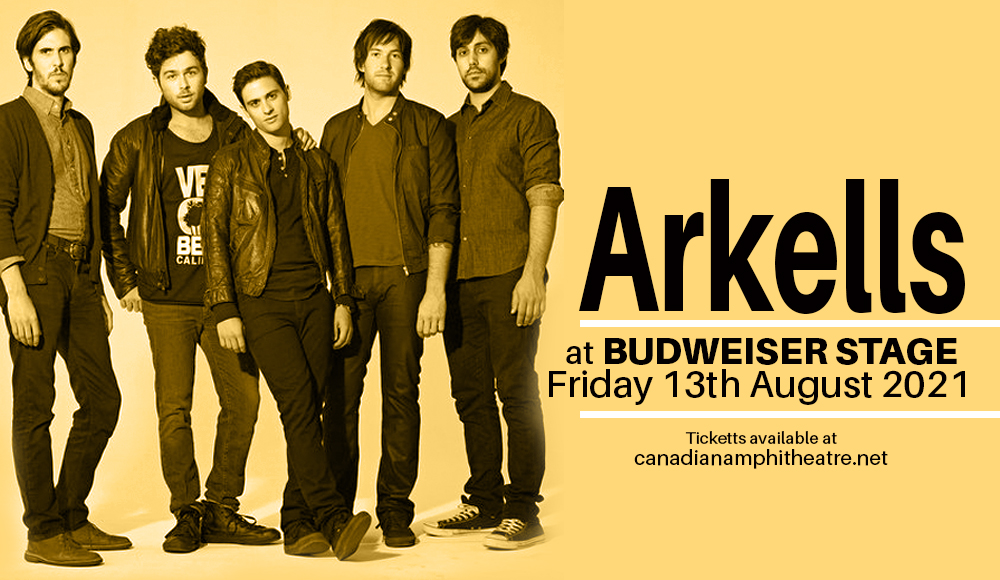 Formerly known as Charlemagne, the band switched their name to Arkells after they were threatened with a lawsuit by another band who had the same name. They chose the name Arkell, after Arkell Street in the Westdale neighborhood of Hamilton, near McMaster University, a place of their residence and rehearsals. With the name change, the band turned a new leaf, so to speak, as they went on to release their debut album "Jackson Square". Arkells won over fans and the music press as they took home the favorite new artist CASBY Award (short for Canadian Artists Selected by You) from Toronto radio station 102.1 The Edge. The following year in April 2010, Arkells won the Juno Award for New Group of the Year.
To date, Arkells has five studio albums, two extended plays, and several chart-topping singles to their name. Four of these studio albums were certified gold, namely "Jackson Square", "Michigan Left", "High Noon" and "Morning Report".
Touring is so much a part of Arkells' DNA and fans often rave about their effervescent energy and high-spirited engagement with the audience — obliging for selfies/groufies, crowd-surfing, or picking out people from the crowd they could jam with. Hence, the band members themselves could not contain their excitement to be back on stage.
"It's been a long haul, but we kept telling ourselves to be patient – when shows come back, we're going to do it big, and we're going to do it right," says frontman Max Kerman. "This event is billed as a long weekend because it'll feel like a celebration that we've yearned to have together. There's no better place for it."
"We've spent the past 10 years on the road playing shows, and it's a trade we're always trying to improve upon," Notes Kerman. "We might be a little rusty coming back, but we can promise there will never be as much giddy, childlike excitement for our return to playing shows. We're already practicing up!"
And on that note, don't miss this show; book your tickets now!