Budweiser Stage | Toronto, Ontario
The multi-platinum English rock band, Arctic Monkeys, is back! With a new album "The Car" up their sleeve, the band is taking listeners to a deep sonic dream. With a new album that transports fans to a big new era, Arctic Monkeys announced the American trek for their tour in support of the new record. The Car is taking a pitstop at Budweiser Stage on Friday, 1st of September 2023. Dropping "There'd Better Be a Mirrorball" and "Body Paint" off of the new album, the Artic Monkeys are driving fans crazy as the album comes crashing to airwaves on October 21st. Don't miss out on Arctic Monkeys' biggest hits and fresh rockin' beats live on stage by booking your tickets now!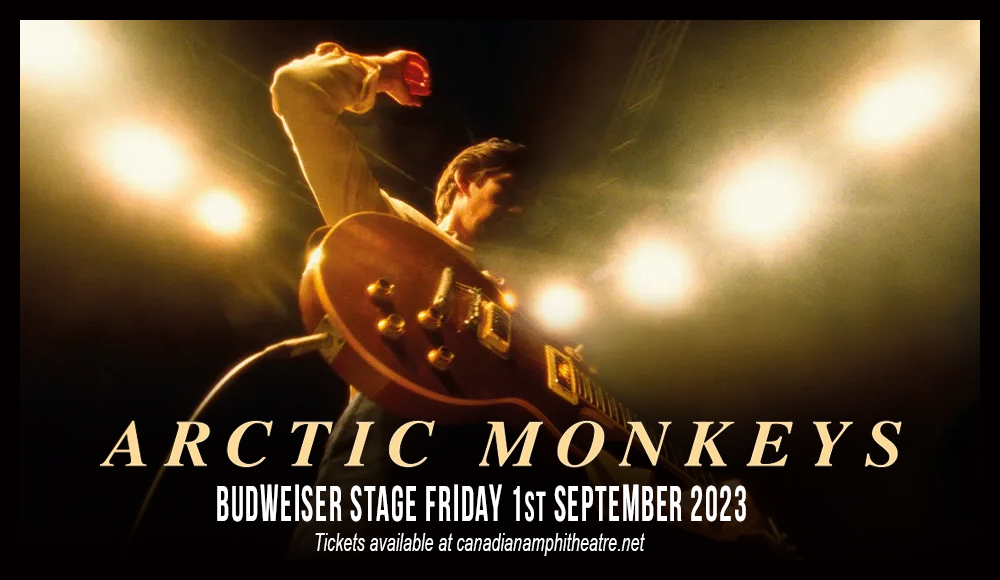 As one of the world's most influential English rock bands who transformed England's indie rock landscape back in 2005, Arctic Monkeys served greatness in every record since then. Following up on 2018's Tranquility Base Hotel & Casino, the band is set to drive the world crazy with their newest album, The Car, coming out on October 21st. Fresh from the new record are singles "There'd Better Be a Mirrorball" and "Body Paint". In support of the new album, Arctic Monkeys announced a string of American tour dates.
Five years since the release of Tranquility Base Hotel, the band is back, ready to crash the airwaves as The Car revs up to dominate the global rock scene.
Their first single, "I Bet You Look Good on the Dancefloor" topped the UK charts together with its subsequent single "When the Sun Goes Down". This led to their debut album "Whatever People Say I Am, That's What I'm Not" gaining massive attention, becoming the fastest-selling debut in British music history. From then on, the band made a mark with their signature indie Brit-rock magic.
In 2013, they amassed global acclaim for their fifth studio record, "AM", which featured their hit singles "Do I Wanna Know?" and "Why'd You Only Call Me When You're High?". With groundbreaking records and hit singles that dominated global airwaves, the Arctic Monkeys is definitely one for the books!
Their 2018 album "Tranquility Base Hotel & Casino" featured their title track single and "Four Out of Five". The record marked the start of a five-year hiatus which just ended as the band announced their big return with "The Car" and a massive headlining world tour.
Taking The Car out for a spin across the country and around the globe, don't miss out on the highly-acclaimed, multi-Grammy nominated, and multi-Brit Awards winner Arctic Monkeys live on stage by booking your tickets now!