Budweiser Stage | previously Molson Canadian Amphitheatre
Are you ready for Arcade Fire?? The massive art rock group are on tour in 2018, coming to the Budweiser Stage on Sunday 22nd July 2018 – get ready for an incredible show!! Tickets are expected to sell out fast so don't delay in getting yours – grab your tickets to see Arcade Fire NOW while they last!!!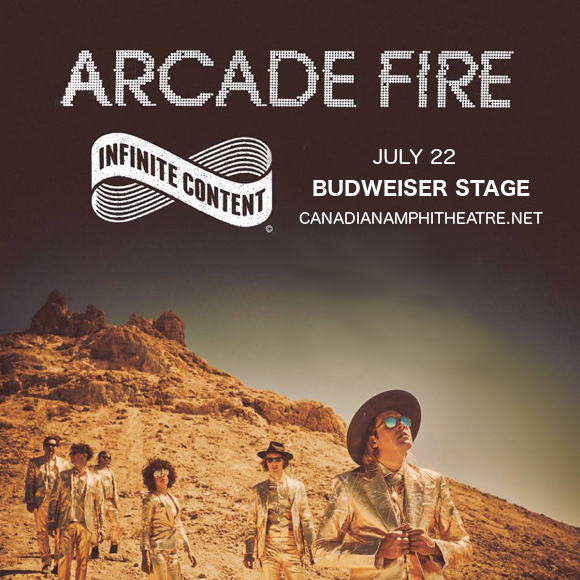 Reaching a wide audience with their debut album "Funeral," in 2004 Arcade Fire have paved the way for experimental and art rock bands, winning the prestigious Metor and Juno awards in 2008 with their second album, "Neon Bible". Now, the band are on tour with their recent much-hyped release "Everything Now." Described by Slant Magazine as "by far Arcade Fire's most upbeat and easily digestible album to date," the album hit No.1 on the Billboard 200 with sales of 100,000 album units, making it the band's third album to top the charts!! In typical Arcade Fire style, the album is very much an entity in itself, with repeating themes linking the listener from one part of the record's story to another. "I think we've always made records. We've never had a hit song; we've only had records, and we've technically had three number-one records now," Will Butler agreed in an interview. "Albums are the art we make. So we've always deeply thought and sequencing, and pace, and flow, and naming. All of those things really matter."
Get ready for the "Everything Now," experience live!! Have you got your tickets yet??