Budweiser Stage | previously Molson Canadian Amphitheatre
Alanis Morissette's extended and expanded 'Jagged Little Pill' Anniversary Tour, which includes special guest artist, Garbage resumes this 2022. The breakthrough and seminal album which marked its 25th-anniversary last year, reigned supreme, keeping the No. 1 spot for 12 weeks at the Billboard 200, and at age 21, Alanis Morissette became the youngest artist at the time to take home the album of the year award at the Grammys in 1996. , "You Oughta Know", "Hand in My Pocket", "Ironic", "You Learn", "Head Over Feet", are just some of the massive hits that came out of this legendary album. Alanis has been constantly updating the lyrics to "Ironic", so will there be a post-Covid version of it? Well, that's for you to find out as Alanis Morissette & Garbage hit the stage of the Budweiser Stage on Sunday 17th July 2022. Now you oughta know that a quick and easy way to book tickets starts with clicking that 'get tickets' link on this page. Save the date and lock in your tickets now!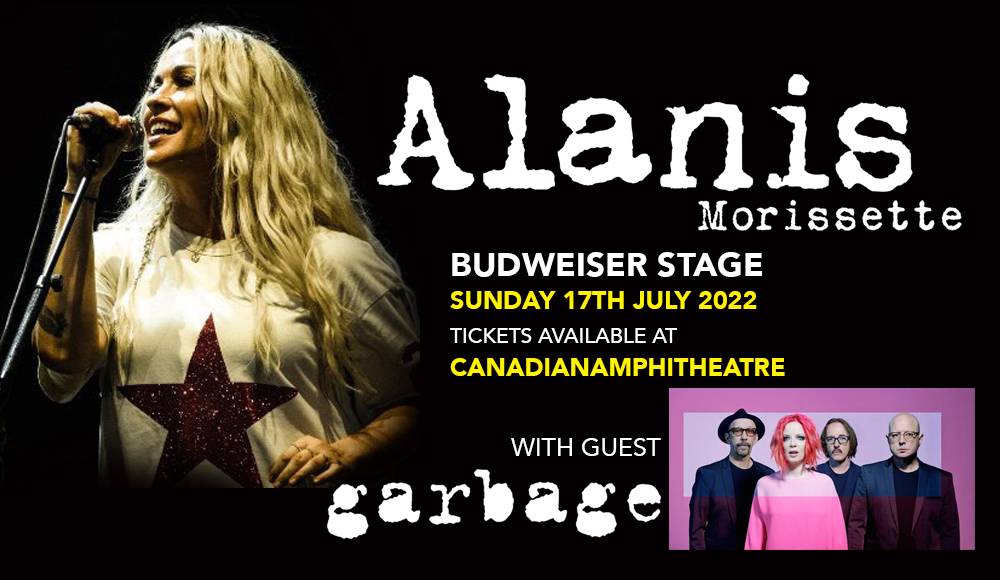 Alanis Morissette deserves to be declared Canada's national treasure. Her astounding achievement as an artist from the commercial success and critical acclaim of her breakthrough album 'Jagged Little Pill' put her on the world map. With songs that contained scathing, explicit lyrics that expressed seething emotions reclaiming girl power, Alanis Morisette was readily crowned "Queen of Alt-Rock Angst" by Rolling Stone.
The album 'Jagged Little Pill' was definitely a hit machine that churned out hit-after-hit-after-hit. "You Oughta Know", "Hand in My Pocket", "Ironic", "You Learn", "Head Over Feet", were on heavy rotation literally everywhere and propelled albums sales to over 33 million copies globally. The album was also listed in 2003 and 2020 editions of Rolling Stone's 500 Greatest Albums of All Time Guide. Alanis holds the record of achieving the most No. 1s on the weekly Billboard Alternative Songs chart among any female soloist, group leader, or duo member. Morissette's career is decorated with 7 Grammy Awards, 14 Juno Awards, 1 Brit Award and has sold more than 75 million records worldwide.
Don't say we didn't warn you. This 'Jagged Little Pill' causes an overdose of thrills to give you that ultimate concert high. You oughta know that tickets are now on sale. Book your tickets now!