Budweiser Stage | previously Molson Canadian Amphitheatre
Get ready for the most exciting tour of the summer! 90s legends The Offspring and 311 are teaming up for the massive co-headlining Never Ending Summer tour, with special support from Gym Class Heroes!! They're coming to the Budweiser Stage on Tuesday 28th August 2018 – don't miss out!! Get your tickets to see The Offspring and 311 NOW while they last!!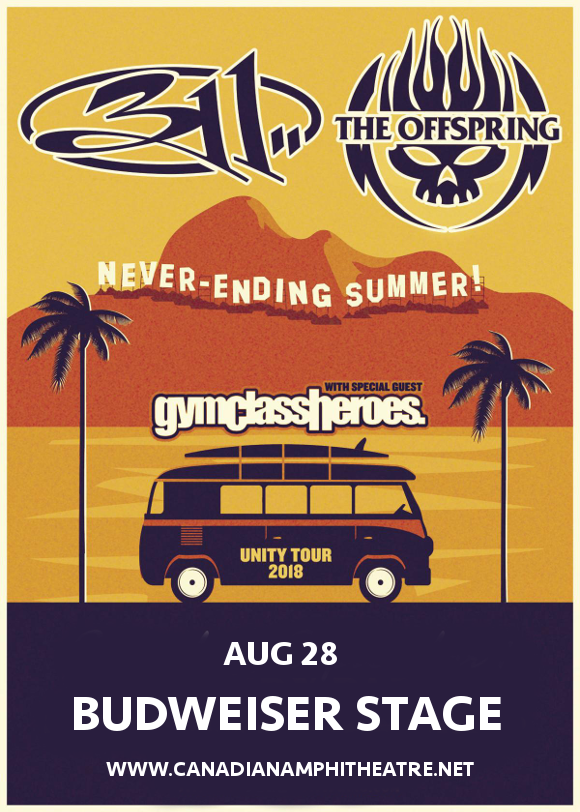 With their first couple of albums, "Music," in 1993 and "Grassroots," in 1994, 911 started to gain a loyal fan following, and in 1995, achieved massive success with their self-titled album, which reached number 12 on the Billboard 200 and has since been certified triple platinum by the RIAA!
311's latest album, "Mosaic," is a long one, featuring 17 tracks, and is their first to feature two songs over five minutes long. Nick Hexum discussed the new direction in an interview: "That was one of the alternate stories that we told about the title of our band, that three minutes and 11 seconds is a great length for our songs. But we've been getting more into doing … "epics" is what we call them. Just songs that have a lot of different new parts and don't follow a traditional song structure. Yeah, there's been like one on every album and now on this album there are two with "Too Late" and "Wildfire."
Listen to the first single from the new album, "Too Much To Think," below – but don't wait about too long, those tickets won't last!!